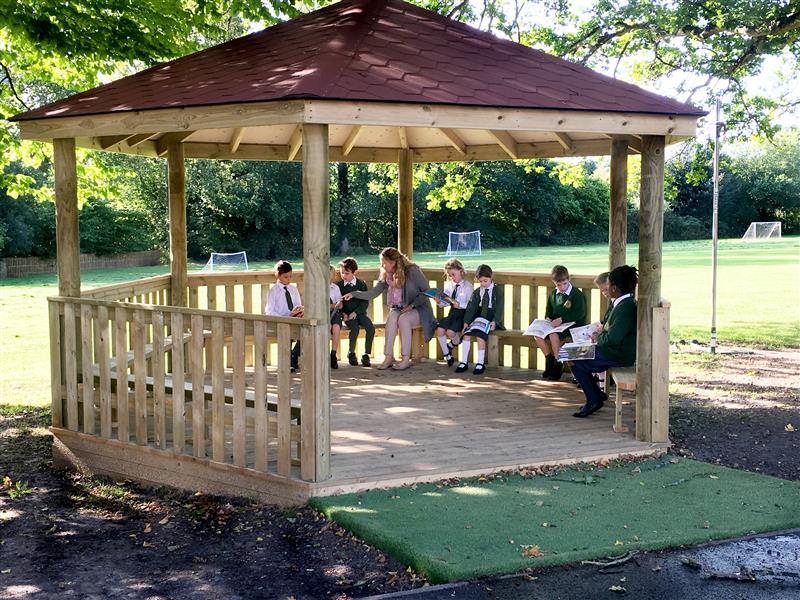 Wonderful outdoor classrooms for cross-curricular activities
View one of the outdoor classrooms and an interview with Holy Trinity's Reception Teacher, Mrs Tomes, here:
Donella Felton worked in partnership with Holy Trinity Primary School to install new outdoor classrooms within their playground environment.
Before our development, a tree was causing one of the main areas of the playground problems because of the large amount of debris and fallen leaves. This meant that the space had to always be swept and cleaned before use because the elements created a slippy and un-safe environment.
"Most of last winter, the children could hardly use the space and in order for them to go outside, we would have to wash everything" – Wendy Poulter, Business Manager.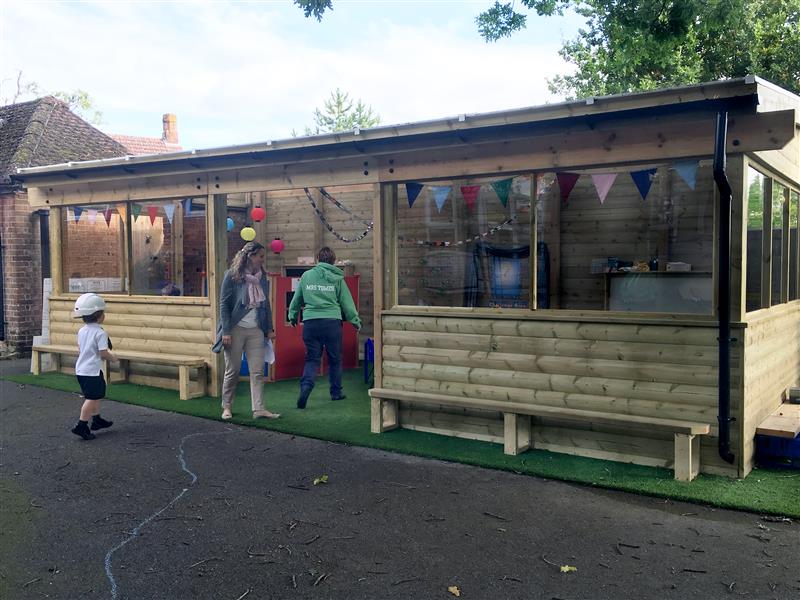 After consulting and discussing viable options, we decided to install our Timber Canopy with Full Cladded and Glazed Sides. This will fully protect the children from the elements outside and any debris and problems caused by the huge tree.
The Canopy can accommodate play and cross-curricular activities without any disruption from the elements outdoors. It also extends the boundaries of the traditional classroom and creates an outdoor hub for learning and play.
Within the Canopy, we included benches, mark making boards and artificial grass surfacing. Children can now relax on the benches or sit on the comfy artificial grass while practicing their drawing and handwriting on the Whiteboards and Chalkboards available.
The Canopy also includes a roller shutter to ensure the school's playground equipment, toys and resources stays secure outside of school hours. This will also stop animals entering the space and any windy weather from causing problems to the resources inside.
As you can see from the pictures, the space inside the canopy is huge and has enough space to create zones for different areas of learning and play.
You can view our excellent range of School Canopies and Shelters here.
An excellent School Gazebo that accommodates 30 children
We also installed our excellent 5M School Gazebo with Decked Base to give the school a functional base for both structured and unstructured learning within their outdoor learning environment.
Teachers can now take a classroom of up to 30 children outside at any given time to help keep lessons fresh and engaging. Children can also use the Gazebo during break times to socialise, relax and read books while being inspired by the outdoors.
Take a closer look at our excellent range of Gazebos for schools here.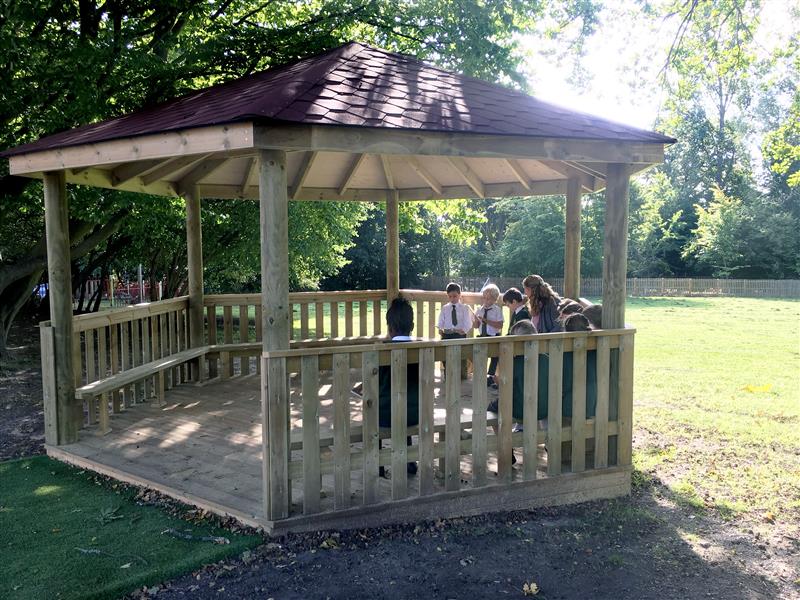 We spoke to Holy Trinity's School Business Manager, Wendy Poulter:
How did you find the experience from start to finish working with Pentagon Play?
"Very, Very Easy. Everyone I have spoken to has been very helpful and to be honest most of it was your ideas rather than mine. All I told you was roughly what we wanted and you have come up with everything else."
How did you find the Pentagon Team on site?
"Absolutely brilliant, couldn't do enough. They were just so friendly, so helpful, so easy going. Everything we asked of them, they helped us with. I would definitely, definitely recommend Pentagon to everybody!"
How did you find the cost?
"Fantastic, much cheaper than anything else I was quoted for."
If you are interested in on of our Outdoor Classrooms or are would like to find out more information about developing your school's playground, complete our Online Contact Form or call us on 01625 890 330 (Northern Office) or 0117 379 0899 (Southern Office).