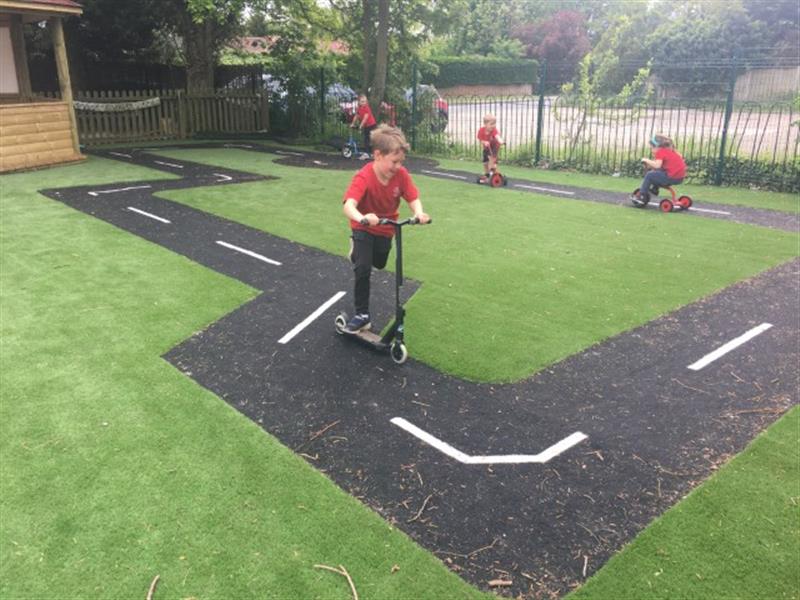 A Fabulous Outdoor Learning and Play Project for KS1 children
We worked alongside Otley Primary School to transform their KS1 Playground into an exceptional outdoor learning environment.
Head Teacher, Michaela Harris, contacted us to help remove their old swimming pool and create a playground that will enhance the active play provision outdoors.
One of the school's values is to be "focussed on fostering learning habits for life through challenge and support in an inspiring curriculum", so we wanted to express this in the playground design.
The magic begins!
Before we could start to construct the new playground, we had to remove the old equipment. Our team removed the old swimming pool fencing and contents inside, so it was safe to fill in the area ready for the new surfacing.
Once the area was cleared, our team installed our stunning Artificial Grass Playturf, creating an uplifting feel to the area.
Marion Rolph, one of our experienced playground consultants, wanted to create an outdoor area that would encourage physical activity and enhance the children's understanding of the world around them.
A Real-Life Roadway
The Roadway was then cut into the Artificial Grass, featuring white lines and a roundabout, creating a realistic aspect for role play games.
Children will quickly become active on bikes, trikes and scooter whizzing around the roadway whilst learning the basics of road safety in a fun and safe environment.
Roadways are a great addition to a play area as it allows children to engage with one another, creating friendships within the class.
A Sheltered Area for Outdoor Learning
In the corner of the playground, we installed a 5m Hexagonal Gazebo to provide necessary shelter come rain, wind or shine!
A variety of features allows children to utilise this area at breaktimes and during lessons, thanks to the built-in giant whiteboard and benches.
Those that learn outdoors develop problem-solving, creativity, independence and confidence skills, it also positively impacts children's concentration and engagement to lessons.
When Marion returned to the school the pupils wanted to show off their new driving skills they have learnt, whizzing around and around the children could spend hours on their new playground.
If you are looking to transform your playground, please do not hesitate to get in Contact With Us Here to start your journey with pentagon play.
Are you from the Suffolk area needing inspiration to transform your playground? Take a look at our dedicated Suffolk Playground Project Page Here.