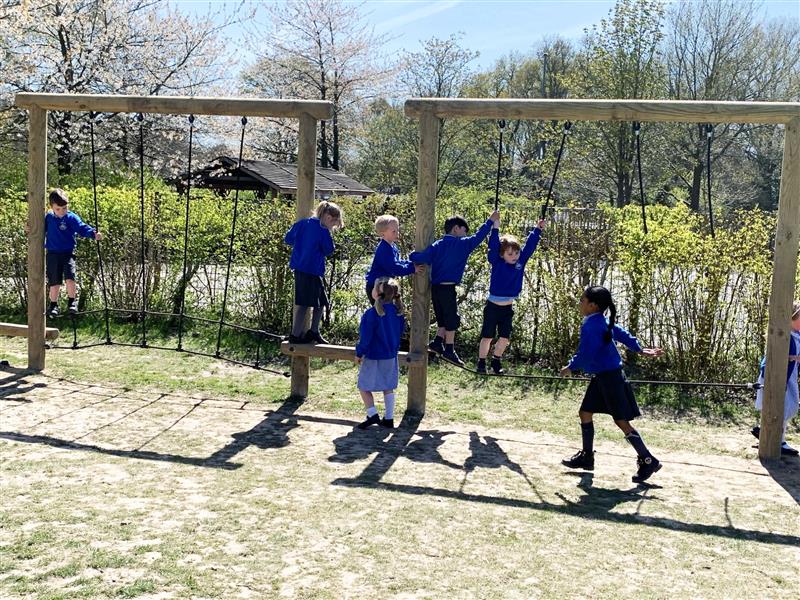 A Wonderful Outdoor Space for the Children and the Wider Community of Limpsfield CE Infant School
Limpsfield CE Infant School is set in the middle of an area of outstanding natural beauty.
The school is situated next to Limpsfield Common woodland which is a National Trust location. Limpsfield CE school lies at the heart of the village and strongly values the relationship between school and the wider community.
With this in mind, Headteacher, Cheryl Hudson and our creative playground consultant, Donella Fenton, planned an outdoor development that could serve the whole community.
Cheryl was keen to provide children with a new active play space that would develop strength, co-ordination and problem solving.
As the school is adjacent to Limpsfield Common we installed an adventurous Trim Trail that could be easily accessed directly through the school gate but could also be used by the wider community outside of school hours.
Active playtimes could be extended to after school and weekend playdates where friends and family could meet and socialise.
A new, adventurous trail for all
Young pupils at Limpsfield school have certainly risen to the challenge of their new trail.
Climbing confidence has been developed when crossing log posts, balance has improved by travelling across the beams and leg muscles have been strengthened when negotiating ladders and thinking about the placement of feet.
A favourite feature of the course is the Rope Swing Traverse, the children need to use their hand strength to grip the handholds whilst they cross the tightrope.
Perhaps pupils are climbing through a vibrant rainforest canopy or hanging onto the windy mountainside.
As the Trim Trail was installed on National Trust property, we were able to produce a bespoke version of our trail with green metal handrails on the tightrope bridge and the use of black ropes.
This ensured that the equipment blended seamlessly into the beautiful, natural surroundings.
Creating challenge with our climbing wall
To add even more active provision to Limpsfield school we also installed a climbing wall inside the school grounds.
We removed existing seating that was no longer fit for purpose and to ensure maximum safety fitted our Artificial Grass Playturf.
Playing together in a small group, children have enjoyed jumping on and off the climber whilst travelling across and learning how to grip the climbing holds.
Reading and relaxing together
School staff were keen to create an outdoor area that would develop communication, language and literacy.
Our artificial grass playturf was installed directly on to playground tarmac to provide children with a large, comfortable space to sit and gather with friends.
A superb Storytelling Chair and selection of moveable seats provide the prefect place for reading for pleasure. The area is situated under a canopy therefore it can be used in all weathers and would be a fantastic spot to sit and share ideas for story writing.
If children want to practise their mark making, they can compose some poetry or a play using their new chalkboard and whiteboard situated close by.
We were proud to have created a variety of outstanding outdoor areas for the children of Limpsfield CE Infant School and for all of the families in the village locality to enjoy. It's been lovely to see the children learning in nature whilst improving their fitness and developing relationships.
Staff at Limpsfield school were so happy with the standard of our work and transformation of the spaces that we are looking forward to working with them again on the next phase of their redevelopment.
If you would like to create an outdoor learning environment for the children at your school, Contact Us Here to begin your journey with Pentagon Play today!
View all of the amazing playground developments that we have completed across Surrey on our dedicated Surrey Playground Projects Page Here.