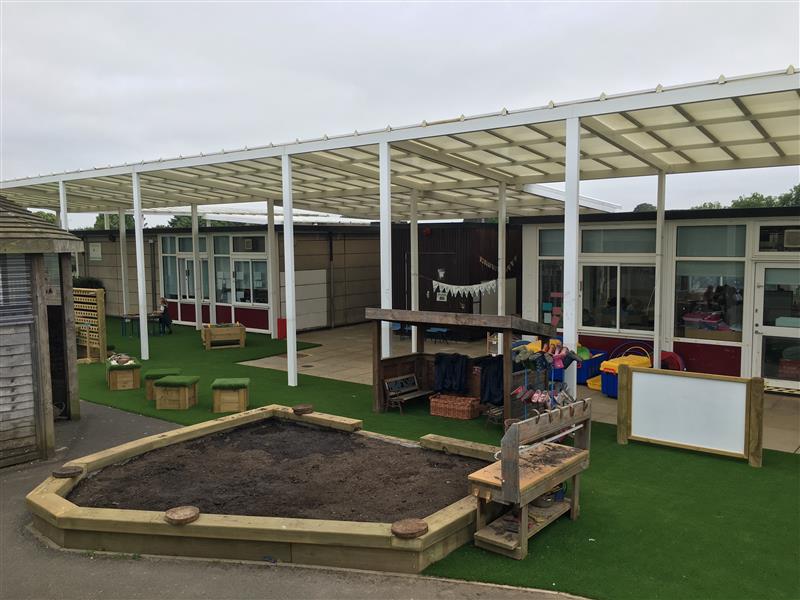 An Inspiring, All-Weather Playground For EYFS
Longmeadow Primary School, located in Herefordshire, were desperate to transform their tired and worn EYFS space into an inspiring, all weather outdoor learning and play environment for cross-curricular activities.
Our playground consultant, Luke Banner, worked closely with the school to create a space that is inviting and appealing to the children, is 'ready to use' without the need of hours of set up and pack away for the staff and targets the children's physical development, particularly upper body strength.
Listening carefully to the headteacher and EYFS leader, Luke designed an area that would meet their needs and include everything they had requested, as well as enhance imaginative play – creating a thrilling area that promotes cross-curricular activities outdoors.
Messy Play Area
Designing an exciting and inviting area for the children meant that some element of messy play had to be included – who doesn't love getting mucky with mud and water?
Our Water Wall and Damming Station Package was the perfect addition to the area to enable the children to investigate scientific concepts, such as gravity and water flow through play. The little engineers love problem solving and working together to build dams to stop the water flow.
Although the biggest hit in the new area is the huge, bespoke dig pit we have created for the children.
This giant resource is a massive hit with the children as they have space to sit on the outskirts and dig or use the steps up to the pit and climb in to gather their ingredients for their new bakery. They also love building huge fortresses for the king and queen of mud land!
The dig pit is a favourite with the children. They are having plenty of messy play fun, improving their fine and gross motor skills.
Trim Trail
As Longmeadow highlighted a need to enhance the children's key physical skills, particularly upper body strength, we installed a wonderful Trim Trail suitable for the young monkeys to swing and climb on.
Composed of a range of equipment, the reception class can practise climbing trees and swinging from branches deep in the Amazon Rainforest. Their overall key physical skills are being targeted along with their upper body strength as they rehearse their monkey noises and transport themselves into imaginary play worlds.
Imaginative Play
Further enhancing imaginative play in the playground is our amazing Giant Chalkboard, Planter Bench and Artificial Grass Topped Seats.
The children love sitting on the Artificial Grass Playground Surfacing as they scribble, draw and socialise with one another – further improving their fine motor skills, social skills and handwriting.
Moveable artificial grass topped seats have proven to inspire the imagination and creativity of the young children as they use them as a table for small world play, a seat for listening to stories and creating obstacles courses to step and jump through.
Rainforests and The Stone Age come to life as the children step, climb and balance through the jungle or transport themselves into the land of Dinosaurs and cave men through the addition of small world resources.
The school are more than happy with their amazing outdoor play are, the headteacher, Emily Howley, had this to say:
"Luke listened well to what we wanted to achieve and created a plan within our budget. The installers were great and allowed the children to ask them questions about the area and what they were doing. We are very pleased with the outcome!"
If you would like to enhance your outdoor learning environment and would like our expert advice, please feel free to Contact Us Here. You can also view our full range of EYFS Products Here.