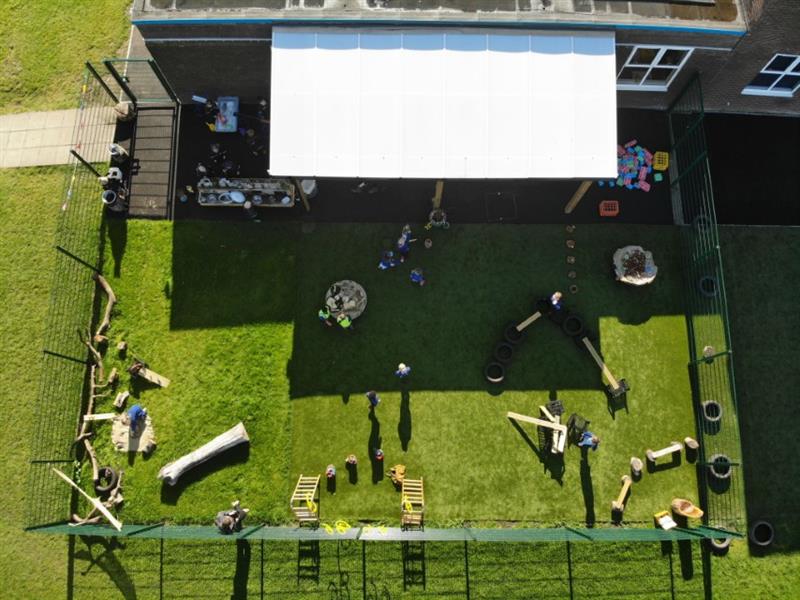 A Free Flowing Outdoor Learning Environment
Working alongside Meadowdale Academy in Northumberland, our expert outdoor learning consultant, Greg Gavin, has designed and installed a fantastic EYFS outdoor learning environment.
The school wanted to renew the outdoor play space used by the children with a particular focus on improving the fencing and surfacing in the area.
A secure, all-weather space for EYFS
We began this fantastic playground development by installing our 2m high security fencing around the perimeter of the area, safeguarding and sectioning the outdoor space.
Once the new fencing was in, we sectioned off the play area from the path through the clever use of our Playground Surfacing.
Black wet pour has created a clear, well-marked pathway to the classroom door from the gate while our excellent artificial grass ensures the children have an all-weather play space!
Both surfaces are soft, impact-absorbing and free-draining - the children can play outdoors safely come rain or shine.
The school expressed that they wanted to create a free flow environment from the indoor classroom to the outdoor environment. With this in mind, we installed an outstanding 8m x 3.5m Timber Canopy above the classroom doors.
Activities and lessons can be engaged with under the canopy to support the children's learning and resources can be stored in a dry, shaded area. This not only expands the education environment, but also takes learning outdoors.
The school, and most importantly the children themselves, love their new outdoor area and cannot wait to get into the fresh air and play! With the first phase complete, we cannot wait to begin phase two of this exciting playground project and add even more exciting playground features into the area.
Are you looking at improving your EYFS outdoor area? View our huge range of playground equipment for EYFS here and create your wish list.
We have developed new ways to conduct playground consultations safely in these difficult times. Complete our Online Form to begin your journey with Pentagon Play and one of our consultants will be in touch to arrange a free consultation.
If you would like to view more examples of our playground projects in Northumberland, visit our Northumberland page here.