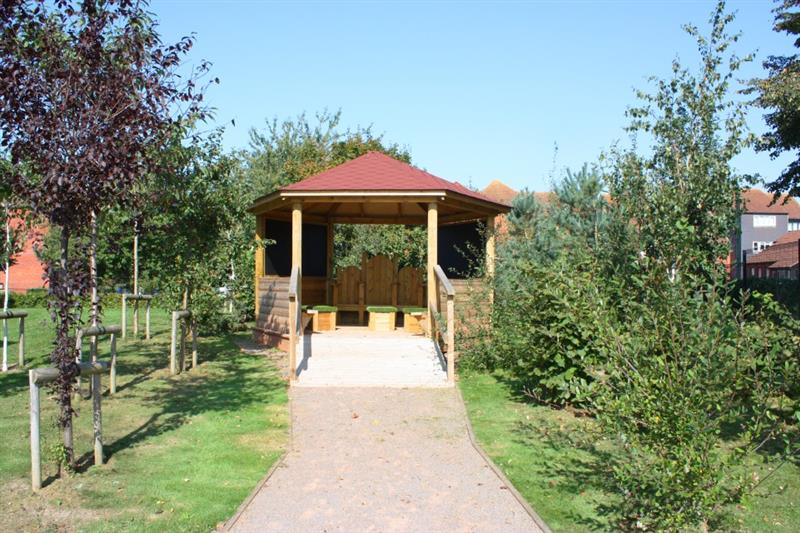 A Multifunctional Outdoor Classroom
With exciting plans in mind to develop a multi-use outdoor learning space at Northgate Primary School, Katie Penny, the headteacher, contacted us to help bring her plans to life. Our outdoor learning consultant, Nicole Fairman, worked in partnership with the Somerset school to design and install this excellent outdoor classroom.
The school desired an area that would create an exciting teaching and learning space, whilst bringing families and groups in the community together.
Nicole knew that a fantastic Outdoor Gazebo would create the space the school was looking for. It can be accessed through rain or shine, support teaching and community events outdoors, provide parents with a space to congregate in during pick up and drop off times and create a quiet, relaxing space for the children during playtimes.
An inspiring area for teaching outdoors
On a section of the school field, we installed an excellent 5m Gazebo.
Featuring a number of our gazebo options, it ensures that the space is truly multi-use and can be fully utilised by the wider community, teachers and the children themselves.
Internally, there are several benches that run along the perimeter of the space that can seat up to 30 children at once. At the back of the Gazebo, we included a fabulous triple storytelling chair.
The children can use the magical seat during lessons to present ideas and thoughts or during story time to read out loud to those around – improving children's spoken language and self-confidence. In addition, we supplied the school with three of our moveable Artificial Grass Topped Seats to provide even more space for the little learners!
At the rear of the gazebo, there are two giant chalkboards to support teachers and forest school sessions during outdoor lessons, inspire mark making during playtimes and communicate information to parents at the start and the end of the school day. There is plenty of space to celebrate children's achievements, such as 'Stars of the week', too!
Featuring a water-tight roof and half-clad sides, the space can be fully utilised during the wet and windy weather, whilst ensuring that the elements don't interrupt learning taking place!
With young trees planted around the gazebo, it will soon become a secret space where learning comes to life amongst nature, away from the constraints of an indoor classroom.
The outdoor classroom has created a calm and wonderful outdoor learning space where all ages of children can participate in exciting lessons as they breathe a breath of fresh air and concentrate on the learning at hand.
Are you looking to create an inspiring space for outdoor lessons? View our huge range of Outdoor Classrooms here and create your own wish list.
We have developed new ways to conduct playground consultations safely in these difficult times. Complete our Online Form to begin your journey with Pentagon Play. One of our expert consultants will be in touch to arrange a free consultation.
If you would like to view more examples of our playground projects in Somerset, visit our Somerset page here.