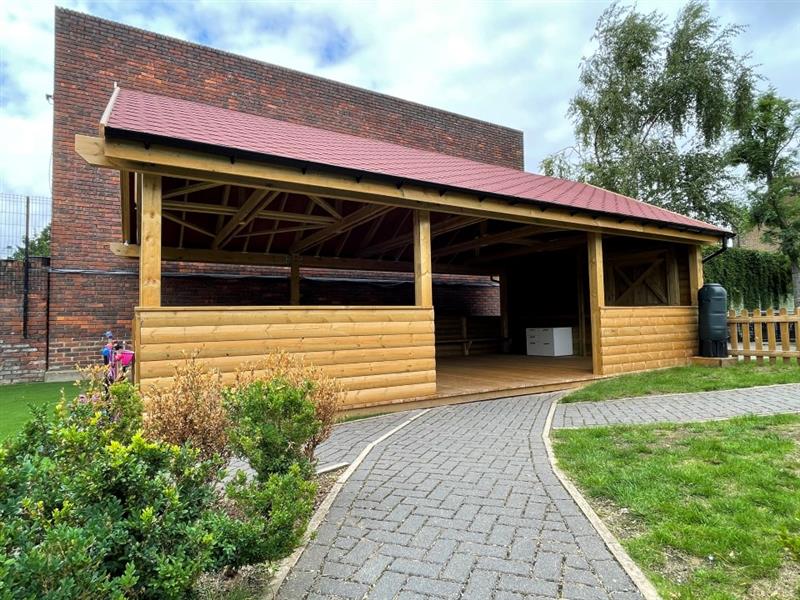 Our Lady and St Joseph Catholic Primary School's Outdoor Classroom
As part of a multistage development with Our Lady and St Joseph Catholic Primary School, we have created an outstanding fresh air learning space for the children to fully utilise during class and at playtime!
Our playground consultant, Luke Banner, was excited and enthusiastic about working on the first phase of the Tower Hamlets based school's playground overhaul.
The Practical Outdoor Classroom
Inspired by our Gable End Classroom selection that creates an incredible space for a wide range of activities to be taken outdoors, we installed a huge timber 9m x 5m outdoor classroom.
Situated in the corner of Our Lady and St Joseph's grounds, the new space includes several features to meet the school's project objects and to create a practical, purposeful fresh air learning space.
This outstanding learning environment includes:
Integrated Internal Benches to provide plenty of space for children and adults alike to sit and relax
A watertight Apex Roof to ensure that the elements never prevent a lesson from taking play
Full Guttering System and Rainwater Harvesting Butt to allow water to run off the roof into a practical area whilst providing opportunities for children to learn about the water cycle.
Double Access Doors and a Single Access Door that are aligned with the existing pathway
Decked Base to keep muddy feet out of the learning space
This outstanding fresh air learning space has created a functional area where all age groups can participate in a wide range of outdoor activities as they learn amongst nature.
The children love using their new outdoor classroom as a story time venue as they sink their teeth into a good book!
To further enhance the outdoor space and ensure it can be used for a multitude of activities, we leveled the area outside of the classroom and installed our free-draining artificial grass surfacing.
The children have numerous areas to choose from during playtimes to eat lunch and socialise with their friends!
We love the outstanding outdoor classroom and can't wait for the other stages of development planned for Our Lady and St Joseph Primary School to come to life!
Would you like to introduce fresh air learning into your school? Contact Us Here to begin your journey with Pentagon Play today!
Alternatively, you can view all the stunning playground projects completed for primary schools and nurseries in Tower Hamlets on our dedicated Tower Hamlets Playground Projects Page Here.