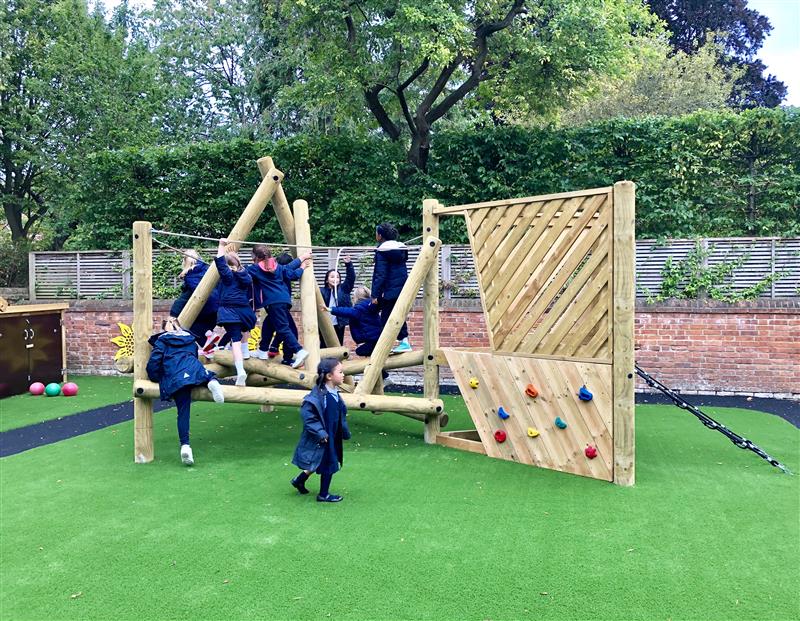 Promoting Purposeful Play In An Exciting EYFS Outdoor Learning Environment
Jessica Williams, Oxford High Schools Head of Prep and Pre-Prep, contacted our sales director, Sam Flatman, with a desire to improve her EYFS outdoor learning environment.
With their vision in mind, Sam worked to design and install a free-flow play area that made best use of the space available and could facilitate all sorts of learning for their youngest children.
After working with multiple of their sister schools, and seeing examples of the high quality craftsmanship Pentagon can offer, Jessica knew that Sam was the right person for the project and knew he would make her playground dreams come to reality.
Energising Physical Play Activities
As a centre piece in the playground, our Harter Fell Climber with Platform and Climbing Net has been a great hit with the children! They love climbing onto the logs, swinging from the ropes and jumping from the logs as they transport themselves to imaginary worlds, deep in rainforests and jungles.
The energising climbing frame is great for physical development. The school's young girls develop their fine and gross motor skills, along with upper and lower body strength, core stability and coordination through play.
Around the new climbing frame, there is a black Saferturf roadway that the children can race their bikes and trikes around as their understanding of the world and road safety knowledge advances.
Imaginative Role Play
To stimulate the children's imaginations and develop their fine motor skills, we installed our open-ended, creative Giant Playhouse with Walls, Benches and a Chalkboard.
The children can be found busy in the playhouse writing and drawing their settings while participating in imaginative play games. The girls love using the playhouse to transport themselves into the doctor's surgery, performing examinations and pretending to be general practitioners.
School Playground Storage
Independence and responsibility are truly being promoted in the Pre-Prep's playground.
The teachers can now store all of their loose play resources in a dry, secure play with our Medium Self-Selecting Store.
The children are able to select what they'd like to play with before tidying away what they are finished with - taking care and responsibility for their loose play resources.
Timber Canopy
We have clearly defined a new messy play area with a Timber Canopy and Playground Fencing. The canopy provides the children with shelter from the elements and shade from the hot sun, while enabling free-flow play from the indoors to outdoors to take place.
The all-weather space underneath the canopy houses a sand and water table to promote explorative play, while ensuring the mess stays on the paving flags under the canopy and sand and water isn't tracked into other areas of the playground.
Timber fencing with gates around the canopy enables teachers to choose what they want the children to access and ensures that the play area is secure and safe for the children to access all-year round.
Jessica loves the new development and had this to say about the area:
"The new area is now a strong part of our marketing to parents; it is so important for this age group to have a strong and meaningful outdoor learning space. We are confident this will attract and retain more parents and their young ladies to our Independent Day school."
If you'd like to enhance your school early years playground, please Contact Us. We'd love to help transform your outdoor learning environment, too!