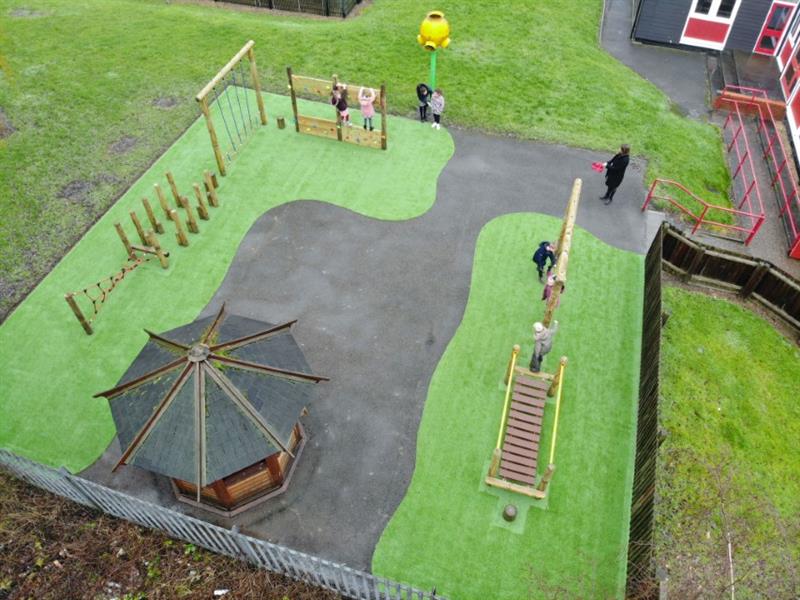 A Captivating Active Play Environment for KS1 and KS2
A once uninviting tarmac surface has been transformed into an engaging active play environment at Poolsbrook Primary School in Derbyshire!
Recognising that their KS1 and KS2 children's outdoor play space wasn't very engaging and didn't provide many active playtime opportunities, the school and our playground consultant, Dan Young, came together to design a new area.
Exhilarating Challenges for Fun-Filled Playtimes
They began by deciding what equipment would make effective use of the space available, but also provide plenty of opportunities for all-weather fun playtimes.
The team agreed that a trim trail was their best option as they could twist and turn with the playground layout, accommodate a large number of children at once and provide progressive challenges!
In one corner of the playground, we installed a smaller, easier Trim Trail for the children to tackle consisting of Stepping Logs, a Clatter Bridge and a Rope Swing Traverse.
This smaller set of challenges is a fantastic starting trial for the children to conquer as they work on their balance, co-ordination and lower body strength.
Adjacent to the smaller trail, we installed a long active challenge arranged in a right angle to follow the perimeter of the tarmac.
A wide range of equipment form the playtime challenge, including:
Net Traverse
Walk and Stretch
Climbing Wall
Twist Net
This longer trim trail provides more upper body tests, as well as a step up in terms of more tricky balance, co-ordination and grip and grasp challenges.
Surfacing for Safe Risk Taking
Underneath the trim trails, we installed our soft and impact-absorbing Artificial Grass Surfacing.
The children can swing, climb and balance their way through the trails (and take the occasional slip, trip and fall) without the worry of serious injury. This allows them to build their climbing confidence knowing they are safe.
A vibrant surface is also more enticing to the children as they imagine the bright green grass transforming into deep red lava; it's a fabulous focal point for imaginative play games!
"We didn't realise the installers were on-site!"
The school had some lovely feedback about our installers, Jimmy Betts and Stuart Hindley, too:
"From start to finish, working with Pentagon Play has been a dream. All staff were professional and we didn't even realise the installers were on-site! The workmanship is to an excellent standard and I would highly recommend them," said Louise Parker, headteacher
Are you looking at improving your children's physical play opportunities? View our huge range of active play products here and create your own wish list. If you are looking for further inspiration, you can view more active play projects here.
We have developed new ways to conduct playground consultations safely in these difficult times. Contact Us Here to begin your journey with Pentagon Play.
View all of our playground developments completed in the Derbyshire area on our dedicated Derbyshire Page Here.