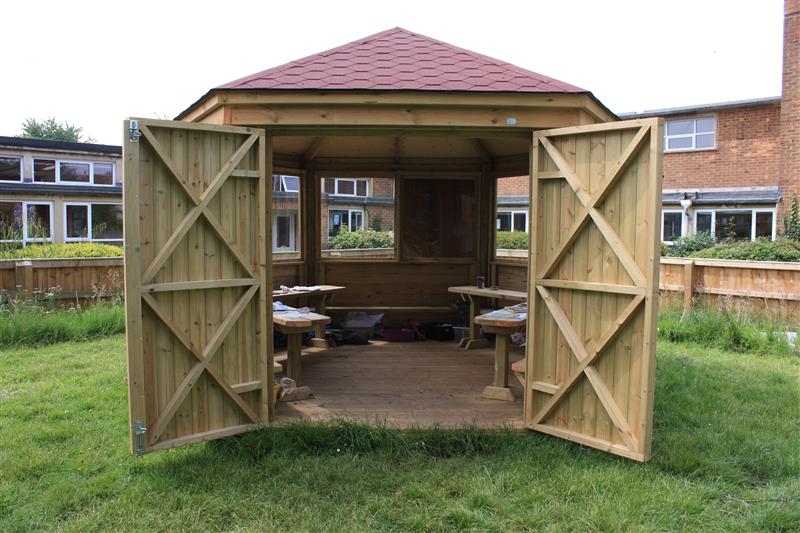 An Outdoor Classroom That Has Enhanced the Outdoor Provision
Our South West Playground Consultant, Nicole Fairman, worked closely with Priorswood Primary School, located in Somerset, to further develop their outdoor provision.
The school have been participating in forest school activities since they have access to an enchanting woodland area, stream and meadow, but felt they needed an area that would expand their outdoor provision and provide an area where they could convene in that was also sheltered from the elements.
Nicole worked closely with the school to meet their needs and create the area that they desired. To further enhance their outdoor provision, they decided that the addition of a magnificent outdoor classroom would create a wonderful outdoor learning base to meet the school's requirements.
The new Outdoor Classroom provides an all-weather outdoor learning space for the children participating in forest school activities, while also enabling teachers to further support the children's social emotional, mental and health as they have a calm, relaxing area where children can simply relax amongst nature.
The new area is peaceful and also lends itself to developing children's communication and language skills as it is a socially engaging space for children to sit and talk.
The magnificent outdoor classroom gazebo has been built on the school site bespoke to the requirements they highlighted during the consultation.
Because of this, the school have the perfect outdoor learning base for the children, which seats a full class of over 30 children, offers a fresh environment for the children to engage in after completing exciting forest school activities and provides a calming space, situated amongst nature for supporting children's SEMH.
As the Gazebo features a watertight roof, the new area provides more opportunities to be taken beyond the confines of an indoor classroom.
The schools headteacher and forest school leader had this to say about their new outdoor classroom:
"We really love our new outdoor classroom. It's a quite haven for our children to access as the playground can sometimes become too overwhelming. It helps us facilitate forest school and be outside all year round and has provided us with the opportunity to do more activities outdoors and offer extracurricular activities, too"
If you would like to enhance your outdoor provision with the addition of an Outdoor Classroom, please feel free to Contact Us for a free playground consultation. Alternatively, you can view our full range of Outdoor Classrooms here.