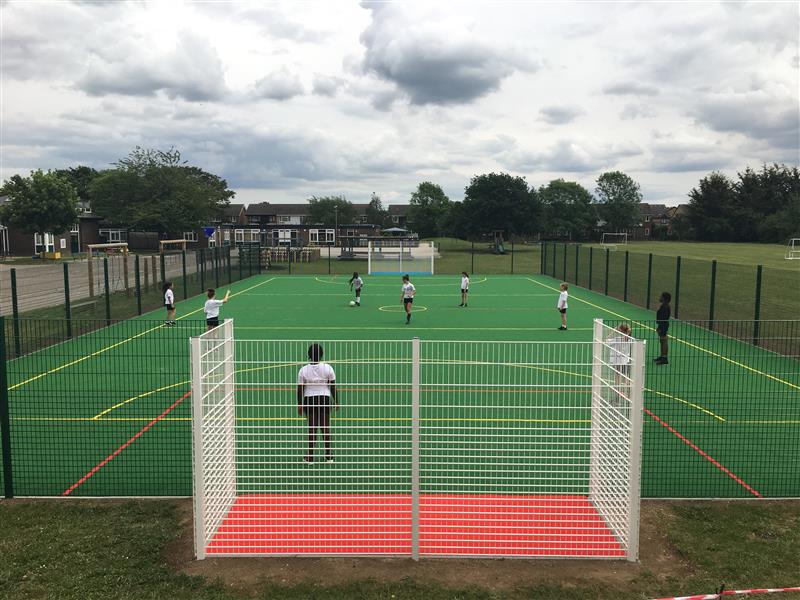 Pentagon Play's MUGA Pitch Creates a Dedicated Space For Sport
Our Playground Consultant, Luke Banner, worked with the Scotts Primary School, located in Hornchurch, to develop a space located on their school field into a wonderful MUGA, for more reasons than just enhancing the sporting curriculum.
Previous to our development, the school desperately needed a larger space to accommodate the children and allow them to freely play ball games at break and lunch times.
A 36m by 18m MUGA Pitch with vibrant, green multi-sport surfacing and a range of sport markings for football and netball has been a fantastic addition to the school's grounds. The green and red markings, coupled with vibrant, green grass has created an appealing, inviting area for sporting activities to take place.
The MUGA has ensured that the school have a dedicated sporting area that can be used all year round, enabling the children to both play ball games at lunch.
It also allows them to develop their fundamental movement skills, cardiovascular fitness, upper and lower body strength, coordination, balance and social skills as they participate in a variety of different sporting activities.
Along with this, the school now have added space where children can spend their break times and lunch times no matter the weather – resolving previous concerns regarding their congested playground and health and safety issues.
The MUGA pitch has had a very positive impact on the school. It is being utilised:
to ensure the children can participate in sports all year round
provided an extension to an ever expanding primary school
enabled football and netball training to take place after school
provided the after school club with extra space
increased opportunities for the children to participate in outdoor play
enabled the school to facilitate sporting events with other schools in their area
generated income for the school through lettings after school hours and during the weekend
The children look forward to play times and after school clubs when they can use the area to participate in sports.
The headteacher had this to say about working with Luke and about installation of their multi use games area:
"We first met Pentagon Play at the Havering Traded Services conference and a site visit was booked shortly after. We already had a vision of the MUGA and quotations from two other companies.However, when Luke visited this was soon to change. He firstly listened to what we wanted to achieve and then with his expert advice, knowledge and past experience, we decided to increase the size and the layout of the MUGA. This initial visit was invaluable in helping us to get this project right and is one of the main reasons we decided to work with Pentagon Play. The installation team were extremely accommodating in the management of safeguarding the children. They were professional and did a fantastic job installing the MUGA. The site was very well cleared and all equipment left the same day the team did."
If you would like to provide your children with a dedicated sporting space that will enhance your sporting curriculum, please Contact Us for a free no obligation quotation. You can also view more of our MUGA Pitch developments here.