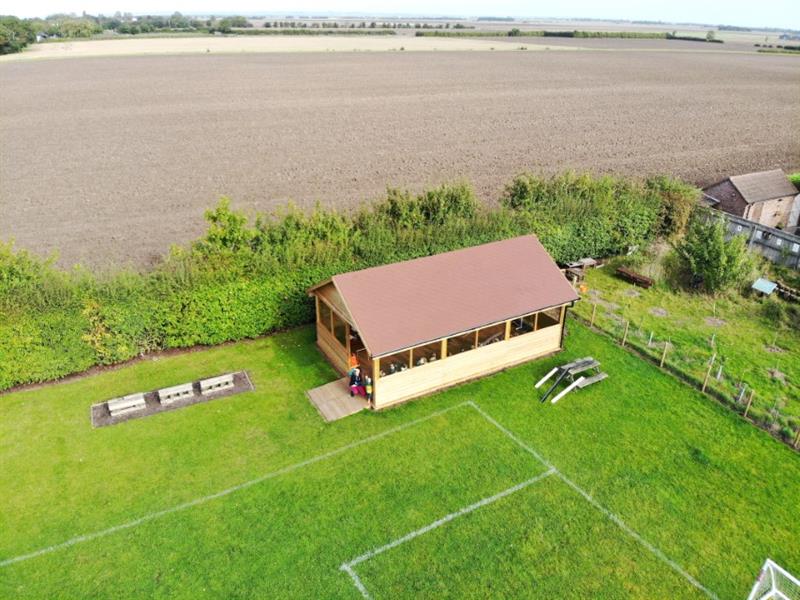 A Practical, Purposeful Outdoor Classroom For Outdoor Learning
Surrounded by the stunning countryside in Boston, Lincolnshire, The Sibsey Free Primary School contacted us as they planned to make full use of their grounds and further enhance outdoor play and learning.
Sibsey's headteacher, Graeme Wright, wanted to create a practical, purposeful outdoor classroom that could be used for a number of different activities and by all age groups attending the fabulous school.
Excited and enthusiastic about their new outdoor project, Graeme expressed his ideas to our fantastic playground consultant, Marion Rolph, who then transformed his thoughts into a realistic design - all within their budget and meeting their requirements of the project.
The Practicable Outdoor Classroom
Inspired by our Gable End Classroom that creates an incredible space for a wide range of activities to be taken outdoors, we installed a fabulous timber 9m x 5m outdoor classroom.
Situated in the corner of the school grounds, surrounded by the gorgeous countryside, the new structure blends in attractively since it has been constructed on site from our high-quality, sustainably sourced timber.
The new rectangular outdoor classroom incudes a number of features to meet the school's objectives of the project and create a practical purposeful outdoor space.
Built with a water-tight roof, decking and an access ramp ensures that the space is truly inclusive, while allowing it to be used throughout the school year - no matter what the English weather may bring!
We created a practical space where all ages can participate in a range of outdoor activities as they learn amongst nature. Sitting on the integrated benches, each child can clearly see the giant whiteboard as teachers and staff present information.
To further enhance the outdoor space, and ensure it can be used for a multitude of activities, the school have brought foldable tables over to the classroom for the children to place their books as they write, draw or collect ideas.
Since the tables can be folded away, the teachers still have the necessary room to set up other activities, such as providing children attending forest school with the space to leave their bags and other belongings while they go exploring, setting up free flow activities for the youngest children to participate in or simply taking children into a new environment to participate in lessons.
Presenting children with a space to relax in before and after forest school provides teachers with an area to gather their pupils in as they quietly listen to their instructions.
Afterwards, the space enables the children to unwind once their session has finished to discuss all of the exciting activities they have participated in with one another.
Learning outdoors brings so many benefits to children as they are surrounded with nature and breathe a breath of fresh air, away from the constraints of an indoor classroom. Children are able to feel free as they discuss their ideas, present information to one another on the whiteboard or participate in inspiring lessons.
The reception children attending The Sibsey Free School are one of the classes who have been making full use of this new, inspiring space. They love participating in exciting activities in the new outdoor learning environment.
On the day Marion went back to the school to hear all about the fabulous events the classroom has facilitated, Reception were taking part in a number of tasks including drawing and writing about fruit, planting seeds to explore the plant lifecycle, building models with natural objects and of course, a healthy snack time!
If you would like to create a purposeful, practical Outdoor Classroom to extend outdoor learning, please feel free to Contact Us. We'd love to transform your exciting ideas into a reality!