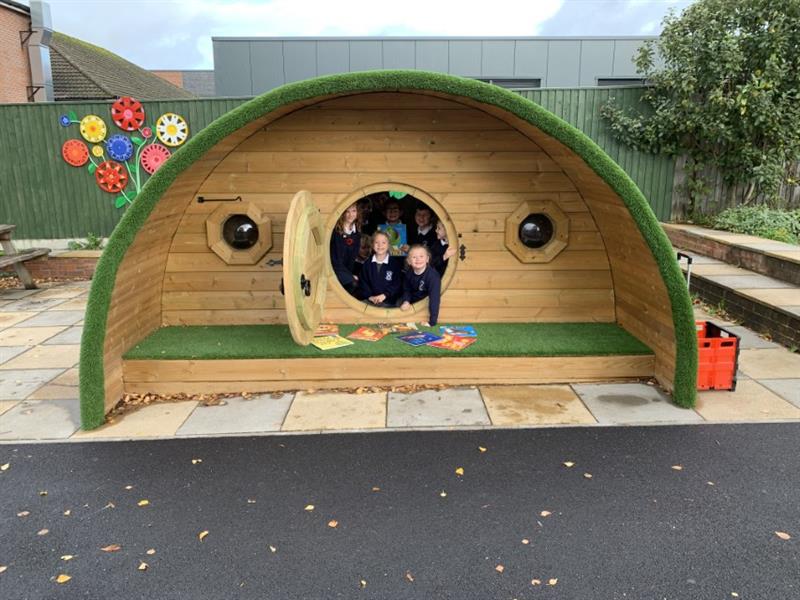 An Inspiring Space Where Fairy Tales Can Come to Life Outdoors
A calmer zone created for imaginative play games and outdoor reading.
The little learners of KS1 at St Andrew's Church of England Voluntary Aided Primary School in Wiltshire have seen a magical space come to life on their playground, that truly encourages a love of reading.
Our playground consultant, Donella Felton, worked alongside the school to develop an inspiring space for literacy, role play and creative games.
A Magical Hide Away for Imaginative Games and Outdoor Reading
The Burrow Hobbit House was the perfect option for this outdoor development thanks to the very attractive features, perfect for the creative children!
Providing the children with an open-ended space for their play, the hobbit house can be used for wide range of outdoor activities during playtimes.
The little hobbits of St Andrew's crouch down to enter their new house, transporting themselves to an exciting, creative world full of fairy tales and mystical monsters as they participate in collaborative, creative playtime games.
For those who prefer to participate in quieter activities, the burrow allows children to sink their teeth into a good book – cosying in the corner or reading aloud to friends as they bring the story to life for others sat around listening.
Who wouldn't want to take a good book into this cosy space and watch the characters come to life and dance around them?
Fun bubble windows allow daylight to shine through into the interior, providing a unique look to the space and ensuring the inside of the space is bright and warm for reading and playing.
As the children glare out of the rear bubble windows, they are immediately transported into Hobbiton, thanks to the beautiful scene painted on the fence!
To create an even more comfortable reading and creative play space, we surfaced the inside of the Hobbit House with our soft artificial grass surfacing. This provides the children with a cosy space to sit and read. The school have even added a selection of fairy lights into the space to add a little bit more magic!
The little learners love using their very own Hobbit house to read, socialise with friends and take their imaginative games to another dimension. The schools aim of the project to inspire a love of reading outdoor amongst the children has truly been met with this exciting outdoor space!
Are you looking at inspire a love of reading in your outdoor learning environment? View our exciting range of Imaginative and Creative Playground Equipment Here and Create Your Wish List.
To begin your journey with Pentagon Play, Contact Us Here.
If you would like to view more examples of our Playground Projects in Wiltshire, visit our Wiltshire Page Here.