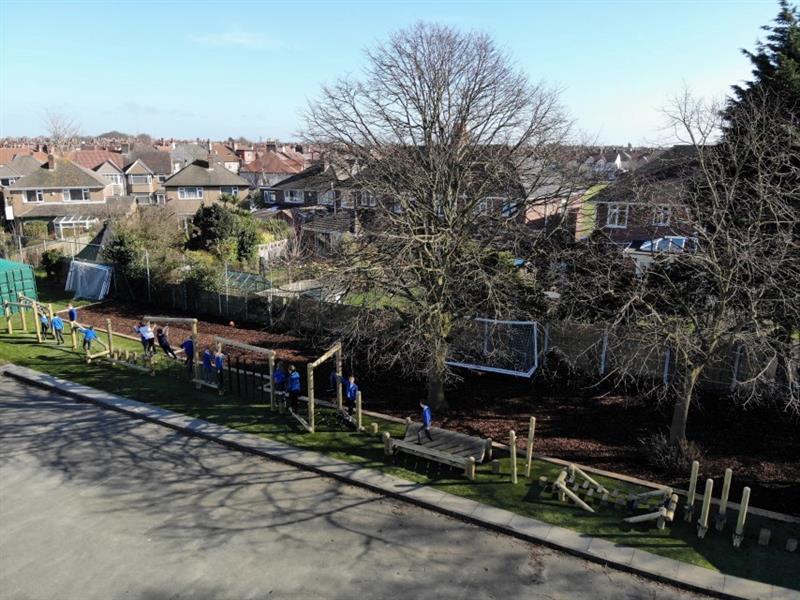 Adventure Awaits With a New Trim Trail at St George's Primary School
Playtimes will never be the same for the energetic adventurers at St George's Primary School in Wallasey. They are one of the first schools to experience our brand new Forest Trim Trail that is inspired by exhilarating tree top challenges.
Headteacher, Bernard Cassidy, was keen to develop an active outdoor area that could be enjoyed by pupils for years to come. Together with our experienced playground consultant Ian Wood, they designed a bespoke adventure trim trail that would replace dated equipment.
A Trail Tailored to St George's Children
The unique trail, which is made from high quality natural look timber, provides different levels of challenge and progression in physical skills. Balance is required when stepping across the logs and stilt posts.
Co-ordination and judgement of speed is needed to cross the wobbly bridge and weave through the slalom. Core strength is shown when climbing the traverse net and decisions are made regarding placement of hands and feet.
A favourite part of the course for the pupils at St George's are the 'Monkey Bars,' Grabbing and grasping helps to develop fine motor skills. Children love the feeling of swinging through the sky! The ability to hang and stretch develops upper body strength and control.
Safety is an important part of our trails therefore we surfaced the area around the trail with our super soft Artificial Grass. Shock pad surfacing was laid to allow children to take safe risks.
All Ages and Abilities Have Been Catered For
The large trail, which is made up of thirteen different elements, was designed in a straight line format to suit the outdoor space. There are numerous entry and exit points and a variation of static and moving pieces to appeal to children of all abilities.
Pupils may like to complete the course individually or work together as part of a team to overcome challenges and feel a real sense of achievement.
Social interaction and communication skills are built upon when using the trail. Resilience is a key attribute that St George's primary is keen to instil in their pupils.The children will begin to use trial and error when learning how their bodies move.
Continual repetition and considering what they may do differently next time will allow them to successfully complete the course.
A Multitude of Possibilities Awaits
The installation of an Adventure Trim Trail is a great way to ensure that children are physically active. NHS guidelines suggest that children should take part in moderate physical activity for 60 minutes per day.
A trail can be used at playtime, to support cross curricular learning and during P.E. lessons and school clubs. Trails open up a wealth of ideas for imaginative play and games. As children are scaling the net they could be climbing the beanstalk, when balancing on the beams they could be performing in their own circus show.
We are pleased to have created energising, active obstacles for St George's pupils to conquer in their daily play.
Would you like a Forest Trim Trail in your playground? Contact Us Here to begin your journey with Pentagon Play today.
Alternatively, take a closer look at all of the excellent playground projects we've completed for primary schools and nurseries in Liverpool on our dedicated Liverpool Page Here.