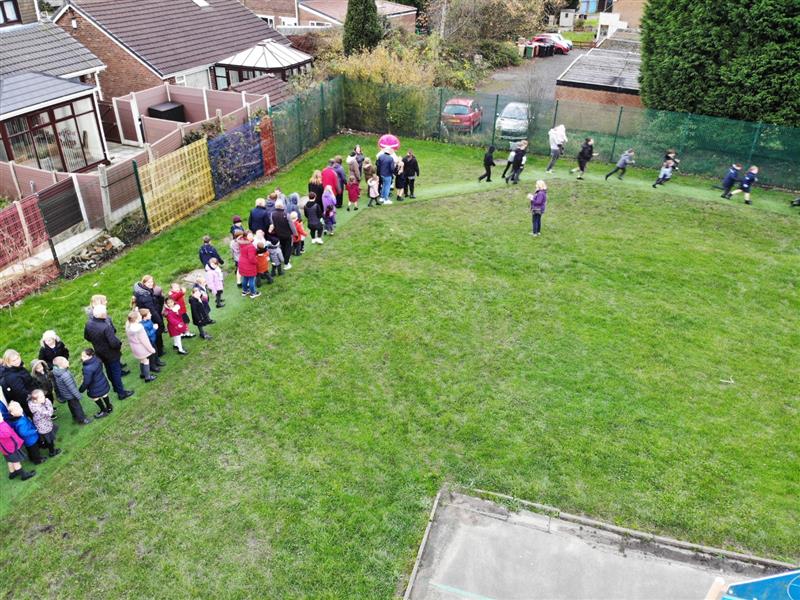 Improving Children's Fitness With A Fantastic Daily Mile Track
Our wonderful playground consultant, Natalie Richardson worked closely with St Thomas CE Primary School, located in Bolton, to help improve their children's fitness. As a keen footballer, Natalie is extremely passionate about sports and fitness, so this was the perfect project for her!
As the school desired a playground resource to enhance their children's physical fitness and wellbeing, along with providing them with the tools needed to learn to lead a healthy lifestyle, we installed an excellent Daily Mile Track.
The Daily Mile Track
Wanting to ensure the children can get active all year round, we crafted the track predominantly out of artificial grass surfacing, which follows the edge of the school field through the natural canopy of the trees and back onto the tarmac space.
However, as we wanted to ensure the track was full length and the children didn't lose the trail, we carried the track on over the tarmac with Thermoplastic Playground Markings.
With the track running over the natural grass field, we installed our excellent dynamic base works, consisting of MOT Compacted Stone, Compacted Sand and our Weed Suppressant Membrane to ensure that the track can be used throughout all-weathers, without muddy feet coming back into the classroom!
On the tarmac space, we installed a basic solid line track, but added a few twists and turns to keep each lap as interesting as the last. The Tyre Run, Hurdles and Bunny Hop markings provide the children with extra activities to participate in.
Through the inclusion of these markings, the children can practice their co-ordination, jumping and balance as they complete the obstacles on each lap!
The daily mile is a healthy initiative taking primary schools by storm across the UK because it is a simple, effective way to encourage young children to participate in physical exercise for at least 15 minutes per day.
It has been found that children who complete a mile a day or run for 15 minutes a day are significantly healthier than those who don't. More than 3,600 schools in around 30 countries across the world have been participating in the Daily Mile!
As physical exercise is very important and brings many benefits to young children, it is necessary to involve them in daily exercise as they learn and begin to understand what is needed to live a healthy lifestyle - theory lessons and healthy lunch boxes can only take healthy lifestyle teaching so far…
Our playground consultants were thrilled to be invited to St Thomas CE Primary School's opening day, where inspirational world and European medallist for Great Britain over 800m, Jenny Meadows, and The Greater Manchester Sports Mascot came to cut the ribbon and officially open the healthy track – they even had a run around the track, too!
The children absolutely love participating in the daily mile each day as they take to the track and race one another, chat and socialise or simply walk and enjoy a breath of fresh air and stretch their legs.
Along with this, the children are improving their cardiovascular fitness, lower body strength, stamina and many more important areas of physical development!
Once they have completed their daily mile time, it has been noted by the teaching staff at the school that their classes have been heading back into the classroom more relaxed and focused.
If you would like to improve your children's physical development through the introduction of a fantastic initiative, please Contact Us. We'd love to help kick start the Daily Mile with a fantastic Daily Mile Track at your school, too!