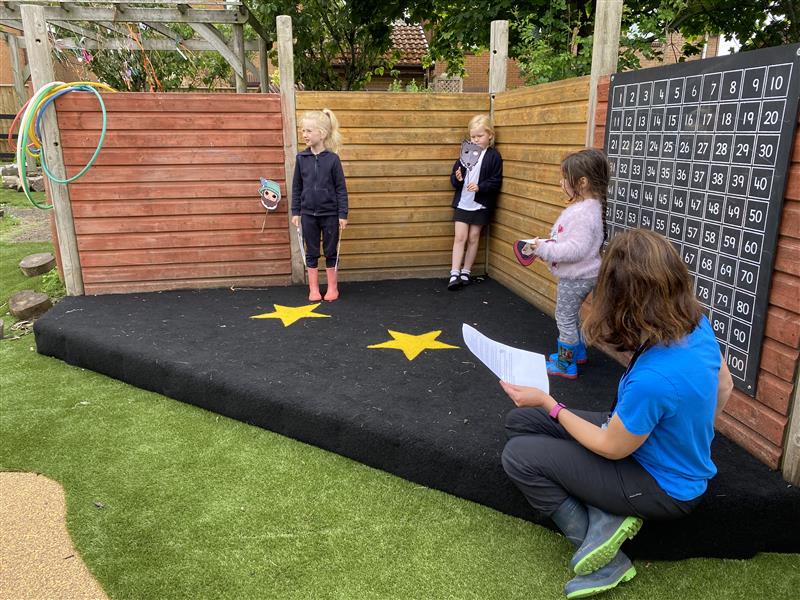 A Creative Playground Surfacing Design for Small World Play and All-Weather Activities
A large tarmac space has been revitalised to create an all-weather outdoor play and learning environment at Stalmine Primary School!
Tom Benson, one of our expert playground consultants was delighted to work alongside the Lancashire based school to design an inspiring and practical play area for the young learners.
A Mixture of Surfacing to Create Playground Zones
The school were keen to keep their outdoor play area as natural looking as possible, but without the maintenance of natural grass.
With this in mind, Tom surfaced the majority of the space with our soft, impact absorbing, free-draining Artificial Grass Surfacing.
This surface keeps the space looking clean and fresh all year round, whilst enabling the staff to take advantage of the area come rain or shine.
Once the artificial grass had been laid, we then incorporated multiple Earth Blend Wetpour Splashes to create dedicated zones for small world play activities.
The children love using old milk crates and tyres to create their own adventure obstacle courses!
Moreover, to inspire imaginative play, we included smaller Grey Wetpour stepping stones to establish pathways leading to various areas within the playground.
The school already had an existing timber stage in the corner of the playground. Instead of removing the stage and seating, we resurfaced the timber with Black Saferturf and bright Yellow Saferturf stars.
It's a fabulous space for the children to dress up and act out their favourite fairy tales and plays on!
Would you like to be able to use an area of your playground throughout every season of the year? Take a closer look at our playground surfacing solutions here and fill in a Contact Form today to begin your journey with Pentagon Play.