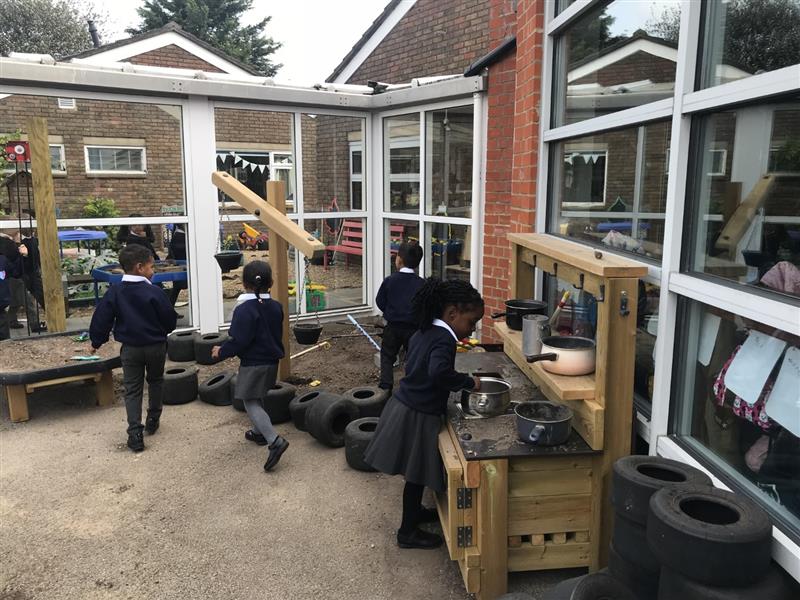 Outdoor Play Equipment for both EYFS and Key Stage 2
Our Co-Owner and Sales Director, Sam Flatman, worked in partnership with Thomas Hickman Primary School, to transform their dated Early Years and Key Stage 2 outdoor play areas into incredible learning spaces for cross-curricular activities, adventure, creativity and physical development.
Physical Development Zone
We created a colouful roadway around the school's existing tower unit for children to enjoy when riding their bikes and trikes.
For further physical play opportunities, we installed a Trim Trail which includes the following obstacles:
Climbing Wall
Net Traverse
Rubber Steps
The trail will develop children's climbing confidence, upper and lower body strength, coordination, grip and grasp and core stability
Our full range of Active Playground Equipment can be viewed here
Sensory Play Zone
Messy play is integral to the growth and progression of sensory skills in children.
We installed our excellent Water Wall with Damming Package to promote collaborative play and investigative learning. Children can work in teams to transfer the flow of water using the transferrable water channels and experiment with ways to stop the flow of water on the Damming Station.
The Sensory Play Zone also includes a Mud Kitchen, Potting Table, Weighing Scales and a Rope and Pulley System. This entire area will encourage children to explore, touch, learn and familiarise themselves with various textures.
If the Mud Kitchen runs low on ingredients, children can transfer new mud across the Rope and Pulley to the young chefs working hard in the Mud Kitchen... time for some scrumptious mud pies.
You can view our amazing range of Mud, Sand a Water Products here.
Story-Telling and Literacy
We turned a previously unused area into a sheltered story telling zone.
The new sheltered area will encourage children to read and develop their spoken language and self-confidence as they read stories to their friends.
The Story Telling Chair includes storage for books and the Moveable Artificial Grass Topped Seats provide comfortable seating.
Positioned inside this outdoor learning space is single self-selection stores, to instigate child-initiated learning and 'tidy up time.' We mounted chalk board doors to encourage writing and mark making.
Performance Stage and Den-Making
Under the school's existing canopy, we installed our Performance Stage with Den Posts to provide children with platform to express themselves and build self-confidence.
Being outside the confines of a traditional classroom, children will feel a sense of freedom when performing which in turn will improve their spoken language and posture.
Children love building dens and now have the creative freedom to design their own stage using different materials and props threaded through our Den Posts.
You can view our magnificent range of Imaginative and Creative Playground Equipment here
Ball Court Developments and Crazy Golf Area For KS2
Before our development, the school had an open tarmac space which would become quite chaotic during break and lunch times.
To create designated areas for play, we further developed the school's existing ball court with the addition of fencing and new markings to create an enclosed space for both football and netball.
In addition, we enhanced the tarmac surface with a selection of colourful and engaging playground markings to encourage collaborative play and active learning.
Moreover, we installed our first Crazy Golf Area using colourful Wet Pour Surfacing, Mushroom Seats and obstacles. Children love participating in crazy golf and it can be a fantastic way to develop hand-eye coordination , confidence, communication and fine motor skills.
View our amazing section of Playground Markings and Surfacing here.
Positive feedback from the school
We thoroughly enjoyed creating a curriculum-focused adventure playground for Thomas Hickman Primary School and are delighted with the feedback we have received since installation.
Thomas Hickman's EYFS Teacher, Tracy Chandler, had this to say when asked about the development:
"The early years area has changed completely providing new challenges which means the children are never bored, they can learn how to take risks by themselves whilst using equipment safely. They're everywhere, enjoying everything!"
View our EYFS Page for new ideas and inspiration for your early years outdoor learning environment. If you would like to arrange a free consultation with one of our expert playground consultants, Contact Us here and we will be in touch to choose a date that suits you. Alternatively, you can call 01625 890 330 (North Office) or 0117 379 0899 (South Office).