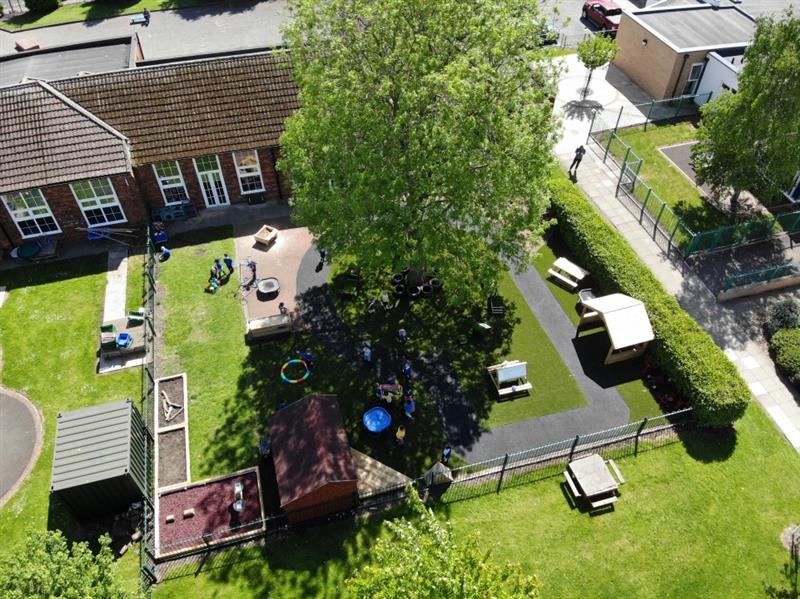 Terrific Times at Tilery Primary School
Super excited about transforming their outdoor space, Tilery Primary School in Stockton-on-Tees contacted Pentagon Play looking to remodel their space into an area ideal for their EYFS pupils!
Outdoor Learning Consultant, Greg Gavin, was delighted to share his excitement and enthusiasm with the school as they worked together to design and create an amazing space!
Creating zones for different types of play was a key factor for Tilery Primary and Greg was happy to help their zoning dreams come true!
Raising an Imagination Nation
Designing and constructing a creative play space for their early years students was essential for Tilery as they wanted to build a space where pupils could explore the realms of their imagination, to its full potential!
To create a space for story-telling and interactive play, Greg suggested the addition of the Giant Playhouse with Walls and Chalkboard, creating a sheltered space with both seating facilities and a literacy space!
Alongside this, pupils have a great seating space with the inclusion of a Pentagon Play Picnic Table, creating an ideal space for both eating and creative art activities such as drawing or painting.
Although, with the addition of our Easel Table, the pupils of Tilery already have a great drawing and writing space to enjoy!
However, even with all of this fantastic equipment, to top it all off, Tilery Primary School added their very own Bespoke Outdoor Stage.
Children can now build their confidence, communication skills and story-telling abilities using this new facility.
Usable for lessons and play, this is a great multi-purpose zone!
Getting Messy
Another zone that is going to be a pupil favorite is the messy play zone!
Providing a space where pupils can explore their sensory needs is key and that's exactly what they can do with their brand new Sand Table with Lid and Weighing Scales. Children can build their coordination skills as they transfer the sand between these two locations very carefully!


They will also be able to build their coordination and spatial awareness skills with their Construction Table, where children can add in whichever toys they like and build, make and mend until their hearts are content.
The children will be able to splish and splash during their break times with their new Early Years Mini Water Wall, Water Channel Stands and Water Table with Lid!
Tilery will also be able to utilise this space for their science lessons as the rain-maker feature and water-cycle themed etchings contribute perfectly to the teaching of the water cycle.
Building Physical Skills
Looking to create an active play space as well as all of these incredible imaginative and creative zones, Tilery Primary made sure to include some of Pentagon's very own Get Set, Go! Blocks- The Mendips Set!
Designed by our products team to support EYFS children as they develop their spatial awareness, coordination, problem-solving skills and more, these sets are great for any school looking to provide a safe space for children to learn to climb!
Children will always climb- it's in their nature. Providing a safe space for them to do their climbing is the best way to ensure that they can still build their gross motor skills, but in a safer way than if they were to climb the tree, sofa, wall, etc…
Daily Driving Practice
It's a good idea to get them practicing their driving skills early…
Well, now they can on their new Thermoplastic Roadway Markings!
Children can get out and about daily on their new race track- they'll pass their test at 18 in no time!
Their parking will be impeccable once they've practiced in these bays!
This is such an exciting space for Tilery Pimary's Pupils!
If you think that you'd like an EYFS area like this one, then Contact Our Team today and we'll be happy to get in touch!
Or, if you'd like some more play-spiration, take a look at some more of our EYFS Case Studies now and get inspired!