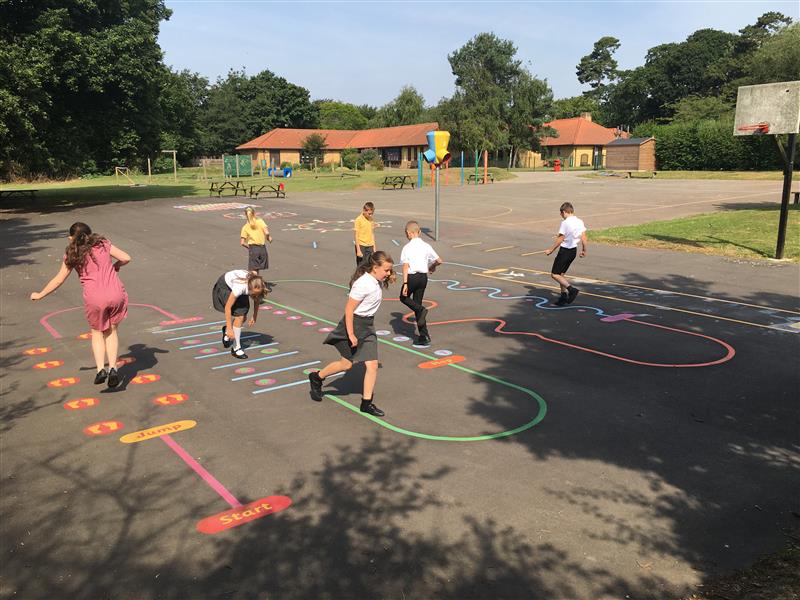 Vibrant, Educational Playground Markings For an Essex Primary School
Louise Eastbrook, the headteacher at Tolleshunt D'Arcy St Nicholas Primary School, located in Essex, contacted ourselves after being recommended by a nearby school.
Our playground consultant, Luke Banner, worked alongside Louise to create a bright, colourful and educational surface on the school's playground after it was recently resurfaced with tarmac.
Luke suggested a selection of Thermoplastic Playground Markings to meet their needs.
Playground Markings
We installed a selection of playground markings, including:
Thermoplastic Number Grid
Thermoplastic Active Trail
Thermoplastic Solid Hopscotch
Thermoplastic Spiral A-Z
Thermoplastic Compass Clock
Thermoplastic Active Spots
The children now have a wonderful selection of active playground markings to focus their imaginary play games around during playtime. They love racing around the active trail, seeing who can complete it first and who is the fastest out of them – encouraging friendly competition and physical development in the playground.
It has been used in a number of creative ways as children hop, step, skip and spring through the number of challenges with one another.
Colourful number grids, compass clocks and hopscotch activities have enhanced the children's mathematical knowledge as they use the markings as a focal point for their games. They love jumping between the numbers as they play games such as snakes and ladders or 'the floor is lava' challenging one another to reach 100 without touching the tarmac.
The children are now able to recognise compass language back in the classroom as they explore North, East, South and West outdoors as well as clocks and the time.
Teachers love using the vibrant Playground Markings as an outdoor learning resource to enhance the children's skills and learning. They love heading outside to participate in a number of engaging activities that involve the markings and confirm their knowledge in these important concepts.
If you'd like to create a bright tarmac surface with our range of Playground Markings, please feel free to Contact Us Here for a free, no obligation consultation with one of our expert playground consultants.