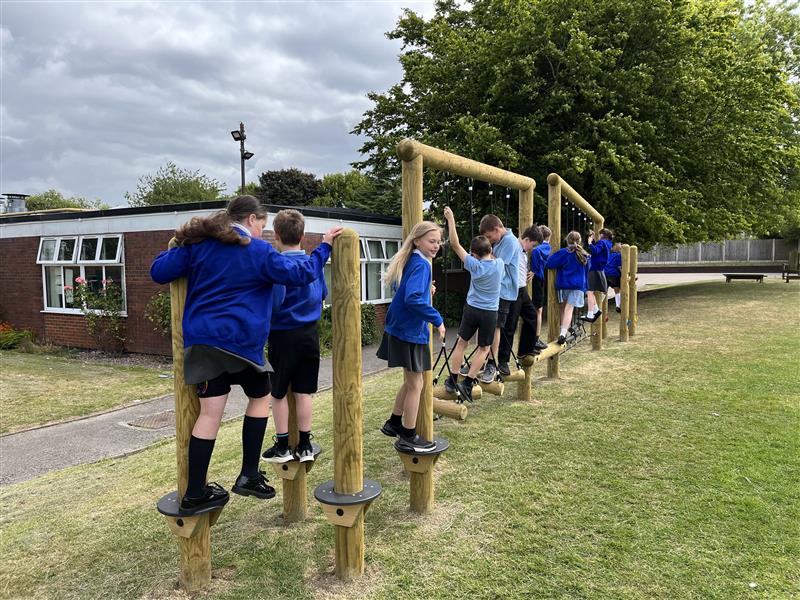 Let the Trim Trail Adventures Begin
at Westlands Primary School
Westlands Primary School, located in Newcastle, wanted to create two adventurous areas for children across both key stages.
Playground Consultant, Tom Hollingworth, knew exactly how to make use of sports premium funding to achieve Westland's vision.
Pupils now have two fantastic, open-ended trim trails where they can enjoy climbing, balancing and progression in physical skills.
A Trail to Develop Team Work for KS1
Pentagon's vast range of Trim Trail obstacles allows schools to select pieces which most suit their pupils, creating unique and bespoke trails.
KS1 pupils can now work together to master the sloping beam and develop their grip strength as they hang on when tackling the tightrope challenge. A strong core is needed to cross the wobbly log traverse and leg muscles are strengthened as children choose which log to step onto. Budding acrobats will learn to cross the tightrope challenge, improving their footwork and coordination as they learn to balance.
As well as supporting physical development, trim trails are also a great base for imaginative play. Pupils really are travelling through the rainforest canopy, escaping the creatures or searching for treasure!
Since the KS1 trail was constructed on a tarmac playground surface we installed Deluxe Artificial Grass Playturf underneath. Our playturf creates an appealing space, giving a soft surface that will cushion landings. Built to last with a natural feel, playturf helps to create climbing confidence for little learners.
Promoting Health and Fitness with a KS2 Trail
KS2 pupils now have their own challenging trail, allowing them to practise daily physical activity.
Upper and lower body strength is needed to stretch across the disc poles and balance and bravery will be put to the test as children cross the balance beam. Flexibility is needed to conquer the stepping stone traverse as pupils learn to weave their bodies.
A set of climbing poles helps to boost cardiovascular fitness. Climbing grooves are comfortable and easy to grip allowing pupils to scramble up and hold on with ease.
Travelling through the Trail Together
Pupils are continually assessing risks and building resilience as they travel through the trail. Sequences and pathways can be created as children learn to link actions together.
Trim Trails are a fantastic space for groups of children to learn to work together. Collaboration and communication skills are built upon as pupils encourage each other and form friendships.
Pupils at Westlands Primary School are now extremely eager to venture outside and engage in physical activity on their new Trim Trails. Through daily practice, confidence is improving and pupils are able to demonstrate fairness and respect through excellent communication.
The new Trim Trails help to develop both pupil's physical and emotional well-being by allowing children to release energy and therefore improve concentration in class.
We hope to have provided Westlands Primary with a series of fun, physical challenges which they will continue to enjoy long into the future.
Have you taken inspiration from Westlands Trim and want to work along side Pentagon Play to redevelop your play space? Contact us today to start your journey with Pentagon Play
OR
If you would like to take a further look at schools that we have worked along side, take a look at our projects page here