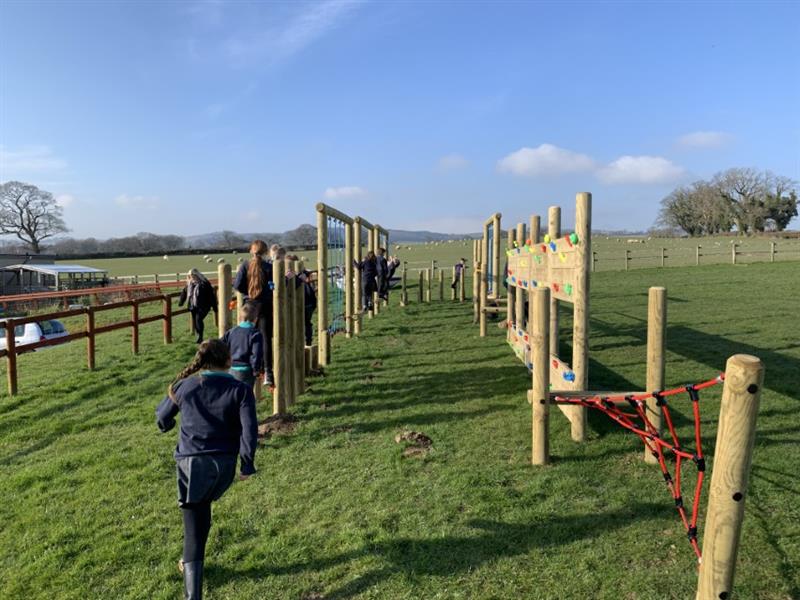 A Pentagon Trim Trail Breathes New Life Into Playtime
Ysgol Y Plas is a small school set in a beautiful rural area of North Wales. The school wanted to create an active play zone for children to further develop thir physical skills and improve their overall wellbeing.
Our playground consultant, Tom Hollingworth, met with the school and presented numerous options for the area within the budget set aside.
Tom designed an active play space on the school field using fun and challenging obstacles for our Trim Trail range. The area didn't require safety surfacing due to the fall height of the equipment being safe to use over grass.
Following the consultation with the school and understanding the age range of children who would be using the area, we chose to install our Primary Trail 3 including a fantastic Twist Net.
Our Primary Trail 3 includes fifteen different challenges, encouraging children to jump, climb, swing, balance and traverse from one obstacle to another. While children move down the trail, each challenge becomes progressively more challenging which is ideal for their continual progression.
Children who find it difficult to overcome the challenges with a higher level of difficulty, will be encouraged to take safe risks to overcome the obstacles or simply jump off the trail before tying again on another day.
A Trim Trail is an excellent confidence booster and helps promote teamwork when overcoming challenges.
The children will improve their climbing confidence while developing their grip and grasp, strength, communication and gross motor skills.
Children's imaginations will also come to life; improving their communication, language and social skills through collaborative and cooperative games. Who will be swinging through the trees of the jungle? Who will cross the treacherous river without falling in?
The children and teachers at this wonderful school love their new active area.
If you'd like to enhance the physical play opportunities at your school, take a look through some of our active play products and get in touch. We offer a full consultation - design process and will advise you on the best option. We bring active play environments to life. Contact Us here!