Outdoor Learning and Play
5 Benefits of an Outdoor Classroom in your School Playground or Nursery Garden
Around the country, many primary schools and nurseries are looking beyond a traditional classroom and exploring the option of an external shelter placed within the natural environment since they provide plenty of benefits to the school, the children and the staff.
Outdoor classrooms are becoming more and more popular as they provide primary schools and nurseries with practical, covered spaces for outdoor learning, socialisation and play all within the current grounds.
With such a positive impact, and the growing popularity of outdoor classrooms, we thought we'd highlight the benefits an outdoor classroom can have on your school or nursery children and offer you some Outdoor Classroom Ideas.
Here are five fabulous benefits of an having an Outdoor Classroom in your outdoor learning and play environment:
1. Provides Shade and Shelter
From the freezing cold rain and wind during the colder winter months to the burning rays of the summer sun, an outdoor play area can face numerous problems when it comes to the unpredictable English weather throughout the year.
With an outdoor classroom situated on the school playground, children can be provided with necessary shade and shelter within a few steps outside their classroom doors.
Our Gazebos and Playground Lodges are all installed with a watertight roof, which also add shade.
Additionally, we provide numerous options including cladded sides and glazed windows to name a few, that can be added to our structures to offer added protection from the elements. Perfect for those areas that are located in a sun trap!
Secondly, our Timber Canopies feature polycarbonate roofs that prevent harmful UV rays from passing through the material and offer plenty of shade underneath the structure for the children to play.
In addition to a shaded environment, our canopy roofs are totally waterproof.
While it is raining, children can happily play while staying dry underneath their canopy and with guttering and a water butt, they can learn about the water cycle and how you can recycle water by watering the plants or filling up the water wall.
2. Extension Of The classroom
Outdoor classrooms for schools don't only simply provide shelter and shade in the school playground or nursery garden, it is a fantastic extension of the indoor classroom, which maximises the use of the school or nursery grounds, too.
During the day, teachers can set up free-flow activities underneath a timber canopy for children to participate in without worrying about the elements affecting the resources put out.
With the classroom doors wide open, children can head underneath their canopy to participate in storytelling, construction play or anything else set out as they watch the clouds pass by or listen to the pitter patter of the rain hitting the roof - leaving more space indoors.
As a canopy enables children to head outdoors, no matter the weather (thanks to its watertight roof), children can use the space as a calming area or a space to extend their imaginative games.
Instead of trying to race their model cars around the classroom, interrupting others play, the outdoor classroom provides the perfect race track for those young F1 drivers!
While learning outdoors, during forest school sessions, children can explore the outdoor environment before using their outdoor gazebo as a meeting point, discussing everything they've found and not forgetting things during the walk back to the indoor classroom to take their coats and wellies off.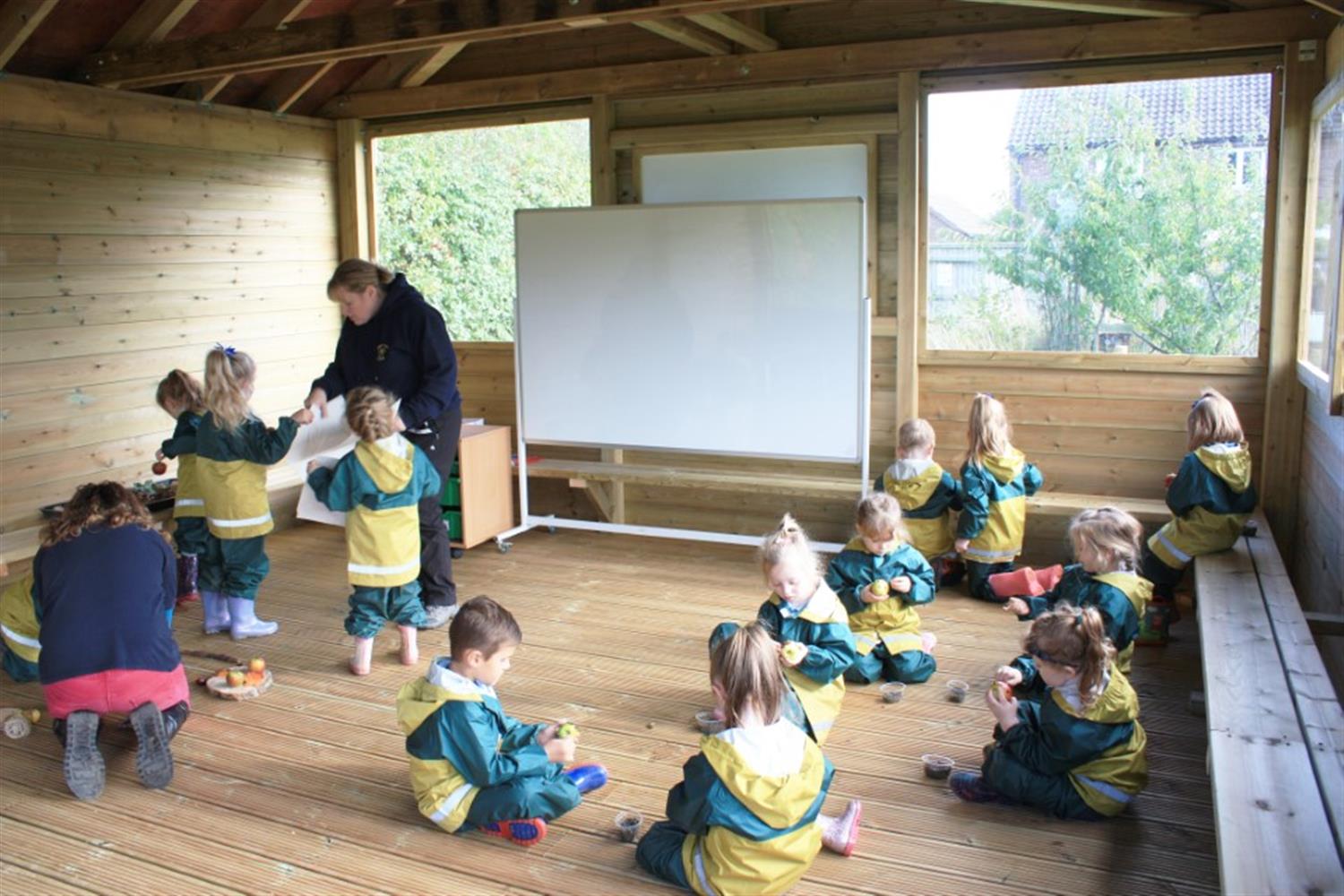 Since gazebos, canopies and lodges are all permanent structures, the use of the classroom can be planned into the school or nurseries timetable to ensure each and every class can make full use of the outdoor environment, alongside the indoor environment.
Of course, these fabulous extensions of the indoor classrooms are much, much cheaper than expanding the school building with brick and mortar - and our natural timber comes with a 15 year guarantee!
3. Multi-Use Learning Shelter
With an outdoor learning shelter in your school or nursery grounds, the space can be transformed for numerous different activities to take place.
As they have a substantial number of uses, including:
Picnics to take place
Socialisation and relaxion area
Aiding sports teams with their team talks before and after games have taken place
Storage for bags and other items during sports games, playtimes and forest school sessions
External community groups to meet
A dry waiting area for parents and carers
Small group interventions away from the classroom
An external shelter is perfect for providing schools and nurseries with plenty of space for children to learn through play, solve storage solutions and allow parents with a dry place to wait and socialise.
4. Increases Participation In Lessons
Taking children into a fresh, new environment, where they are surrounded by nature, is the perfect way to increase participation in lessons.
While in the outdoor environment and away from the constraints of the indoor classroom, children become more focused in the lesson or activities taking place as they forget about all of the stresses and distractions back inside.
It's perfect for calming those children who may be struggling with a topic and enabling them to work though their struggles step by step.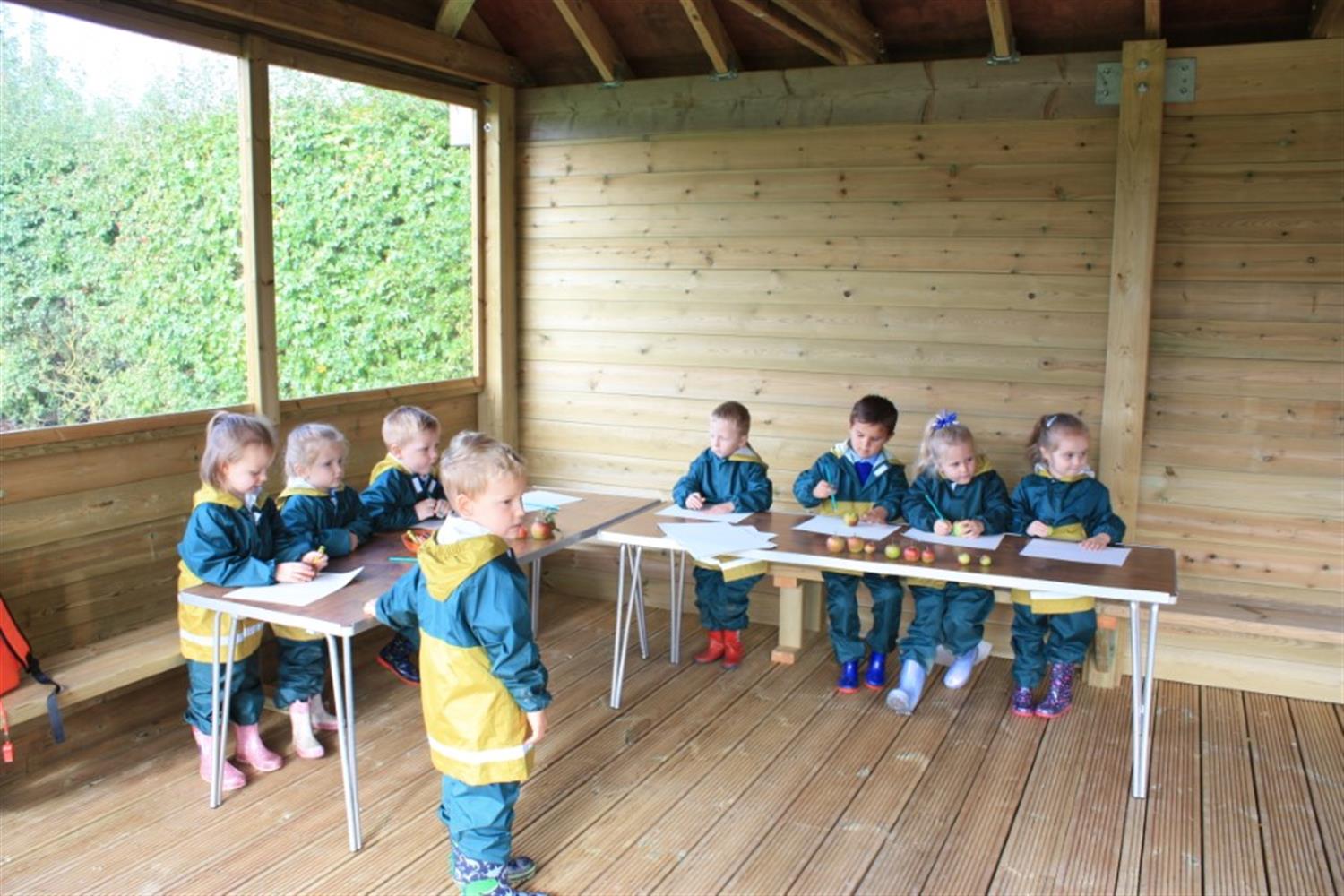 Alongside this, while in a different and calm environment, children will be likely to become more co-operative as they listen to what's being asked of them and complete the activity set.
The natural environment is perfect for children to relax and refocus themselves as they listen to nature and self-regulate away from the busy classroom.
Once children have finished their outdoor lesson and have headed back inside, they feel calm and ready to face their next lesson, increasing their concentration and motivation for learning back inside the classroom, too!
5. Creates A Unique Learning Environment
An outdoor classroom in your school or nursery grounds creates a fabulous, unique learning environment for children.
As they breathe in a breath of fresh air and prepare themselves for learning, the outdoor environment acts as a fantastic stress relief, improving children's well-being, too.
While children are outdoors, motivated to learn and concentrating on the lesson taking place, imaginations run wild and creativity is enhanced – improving creative writing during outdoor literacy lessons and improving science learning as children look around themselves and ask inquisitive questions about nature and everything else they can see.
Since the environment is unique and peaceful, children look forward to learning away from the indoor classroom when it's their classes turn to use the space for activities and lessons!
Our Outdoor Classrooms
From canopies to outdoor gazebos, we can build and install the perfect outdoor classroom for your children's needs, all within your budget.
All of our outdoor classrooms, including canopies and bespoke lodges, are built on site by our expert installers and can be designed and installed to any specification to suit your setting.
We have created many varied features to enhance your outdoor classroom, including the following to name a few:
Workstations to aid lessons outdoors
Full clad sides
Glazed windows to further protect from the elements
Lockable doors to keep resources secure over night
Children can enjoy outdoor learning daily and reap the benefits of an outdoor classroom, no matter what the weather may bring!
Our magnificent selection of Outdoor Classrooms are built to last and compliment the natural surroundings since they are created from sustainably sourced, quality materials, ensuring you are helping protect and save the environment, too! All of our timber comes with a fantastic 15 year guarantee
For more Outdoor Classroom Resources, visit our Edu-Blog.
As external shelters bring so many benefits to your school playground or nursery garden, why wouldn't you want one?
We take a consultative approach to helping you find the right outdoor classroom and features for your school, ensuring they meet your project requirements and budget.
For more Outdoor Classroom Ideas, Contact Us to begin the process to installing a fantastic Outdoor Classroom in your outdoor environment.