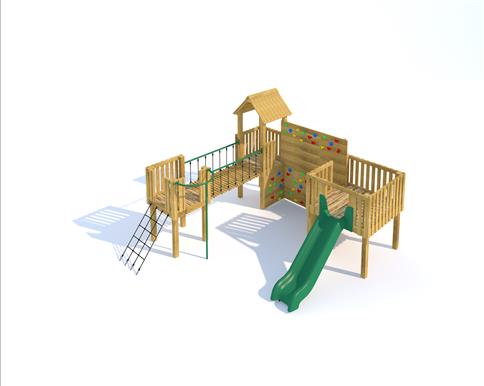 Warkworth Modular Play Tower
Our product code: P-AP-TOW-MPT/WAR(1.2)
The Warkworth Modular Play Tower is a huge structure brimming with exciting features that will encourage children to climb, traverse, build dens and re-enact stories through role play.

This tower design includes a huge Climbing Wall which connects two platforms providing the children with a challenging crossing which will build their upper body strength, hand strength and fine motor skills through grip and grasp.

There are multiple entry and exit points which include a Climbing Net, Fireman's Pole, climbing wall and slide. Den-making can take place underneath due to the amount space available.
---
Technical Details
Modular Play Tower Warkworth (1.2M)
Associated Documents
Please contact us for further information.
Guarantees
Please contact us for further information.