View All Products
With 25 years' experience creating engaging outdoor learning environments, it's time we turn our attention to indoor classroom environments! With a dedication to crafting high-quality, versatile school furniture, we offer a range of seating, storage and workspaces for you to choose from to best suit your pupils needs! Design an engaging learning space for your pupils to thrive in with our lightweight, natural-looking primary classroom furniture.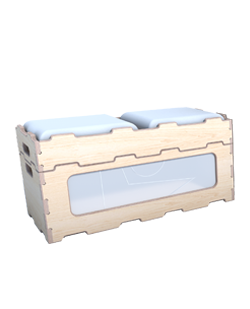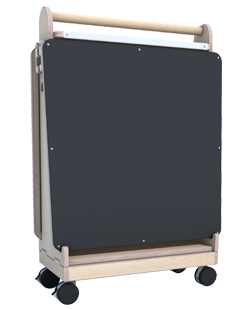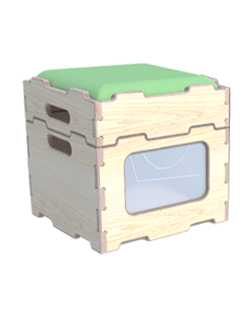 Create interactive group work spaces within your classroom for smaller sub-groups and activities

Use the removable easel panels as low-level table tops for interactive activities

Our Classroom Furniture offers combination seating and storage in one shared space

The Easel holds shelf storage for all of your classroom resources

Create low-level seating areas with interactive table tops and a display easel

The Stools and Benches offers an abundance of storage in the base

The Easel stands at the perfect level for children to write and draw on independently

Children can peek through the clear window, encouraging self-selection

Lift the light-weight lid to reveal an abundance of storage

Stack the Easel on top of the Stack and Sits to raise the height for display purposes

Take a seat on the comfortable Stack and Sits, the ideal height for using the Easel

The Easel comes with the a Dolly with Wheels so you can easily move the resource around

Removable cushions reveal interactive small world and sorting game tops

The Stack and Sits offer multiple uses for both children and teachers

Arrange the Stack and Sit Packages into whatever formation suits your classroom needs
Innovative School Furniture and Unique Classroom Designs for your Learning Environment

Following 25 successful years of developing engaging outdoor play spaces, we've expanded our horizons to bring you versatile, one-of-a-kind furniture for your classroom. During their time at Primary School, it is estimated that children spend over 4,000 hours in the classroom. Making this an interesting and positive environment for them to thrive is key to their success. With this in mind, we dedicated our time to developing a classroom furniture range that facilitates the creation of inviting learning spaces.
Our Classroom Design options have been designed to combine learning and storage space, so you're never swapping quality classroom space to store your resources. With combination seating, storage, and workspaces, you can create a learning environment suited to you and your pupils' needs. Rearrange the space daily to create new and exciting environments where pupils can thrive. With a range of pre-assembled items and installation packages, you can choose the facilities that will work best in your school.

Stack and Sit Packages

Our Stack and Sits stand out for their accessibility to pupils of all ages. Stacking on top of each other, the seating can be laid out or tidied away easily, creating versatile workspaces for pupils to enjoy. Remove the cushions to create floor seating and reveal interactive game tops for the children to explore, building on their fine motor skills, creativity and imagination! Available in both stool and bench form, you can select the option best suited to your classroom needs. Lift the removable lids to find plenty of storage space for classroom resources, which pupils will be able to access for themselves! The clear windows make it easy for children to peer into the boxes and select the items they need, before lifting the lightweight lids.

Art Easel

This combination storage and workspace item is the solution to your space-saving needs. This double-sided art easel has a chalkboard on one side and a whiteboard on the other to create an interactive learning environment like no other. Lift the mark-making panels from the easel with ease and place them on top of the stack and sits to create a low-level table where pupils can play games, complete tasks or work independently. Inside the easel, there are plenty of shelves for storage at an accessible level for pupils! This easel comes on a dolly with wheels, meaning it can easily be relocated wherever you need it, making it an extremely versatile resource!

Breakout Space Packages

Our Breakout Space packages are designed to allow you to create zones for group work, quiet time, or independent learning within your classroom. Use the storage units to mark out a dedicated space within your learning environment which can then be used for storytelling, crafts, PSED or group tasks. Installed by one of our expert teams, you have a wide range of storage choices, meaning you can keep all of your learning resources neat and tidy in one handy zone.
Read More