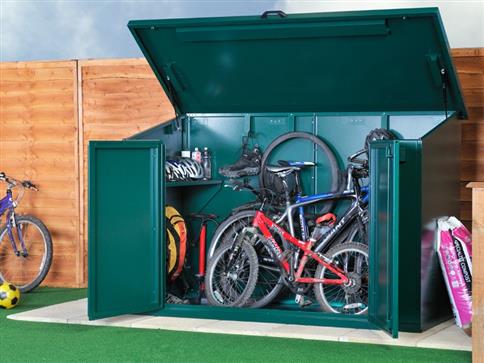 Low Steel Storage Unit
This product is no longer available.
Please take a look at our latest Furniture, Fencing and Storage products here.
Our product code: P-FFS-STO-SSULO
Access to a storage unit has never been easier, our Low Steel Storage Unit includes a large double door fitted with a lift-up lid which is ideally designed for mobile equipment including bikes and scooters.

With a tough twin lock system and a full metal base, this allows the storage unit to be secure. The unit also has a ventilation system to prevent the build-up of condensation.
Technical Details
Associated Documents
Material Guarantees
Technical Details
Size (L x W x H): 2060mm x 1040mm x 1340mm
​Base size (L x W): 2200mm x 1150mm
​Weight: 114Kg
Galvanised steel, powder coated green
Requires 100mm clearance at the back
Includes:
Ventilation system to minimize the build up of condensation
Tough, shrouded, twin lock system
Large double door access with lift up lid
Full metal base
Associated Documents
Please contact us for further information.
Material Guarantees

Steel Storage