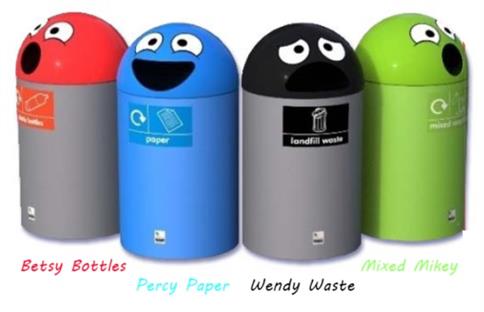 Recycling Bin
This product is no longer available.
Please take a look at our latest Furniture, Fencing and Storage products here.
Our product code: HA-FFS-STO-RB
Improve your children's understanding of the world by teaching the important topic of recycling and encouraging recycling at your own school.

Our recycling bins are longlasting as they are made from strong and durable plastic. You can be sure they will survive the elements when used in the playground for playtime rubbish.

As well as being strong and durable, our bins are freestanding; allowing them to be used inside of the classroom or scattered around the playground.

We have specifically designed our bins to be used in schools. Due to the height of the bins, they are easy to access and children will never have a problem accessing the bins or recycling.

With four fun characters, our recycling bins are the perfect addition to your school playground or classroom. Children will naturally remember which character bin they need to put what waste into.

Technical Details
Associated Documents
Material Guarantees
Technical Details
Size (D x H): 440mm x 815mm
75 litre capacity
Different shape mouths/colours for different waste streams
Removable plastic liner
Associated Documents
Please contact us for further information.
Material Guarantees
Please contact us for further information.