Mud, Sand, and Water Play
It's in a child's nature to get messy and our Messy Play Equipment includes innovative products for mud, sand and water play. We'll work with you to create your own messy play zone which is a great way to encourage investigative learning, teamwork and sensory development. Mud, sand and water hold a tremendous attraction for children as they have a boundless scope for exploration and play.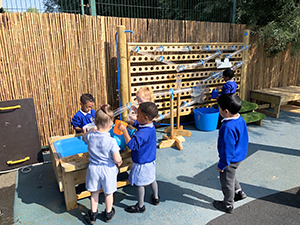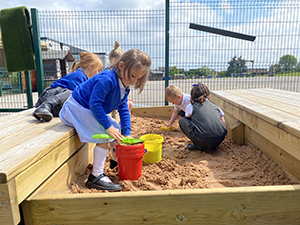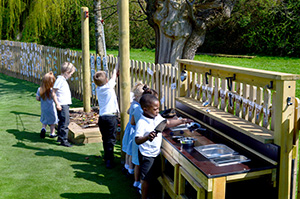 Encourage children to get creative and create some amazing mud recipes in our dig bit.

Our Water Wall Packages are perfect for both Schools and Nurseries!

Allow children to cooperate and create wonderful mud creations

Enhance pupils fine motor skills and encourage cooperation within your class.

bring the beach to your play area with our large covered sand box.

A fun sensory activity that enhances fine motor skills and friendships within your class.

Allow children to cooperate and play together in our large covered sand box.

Bring the sea side to your play area for your lucky pupils to build amazing sandcastles.

Encourage a class of children to work together and create wonderful sand creations.

Allow children to experiment and learn about the world around them with our damming station.

Improve children's fine motor skills with our fine motor skill table.

Mud kitchens and Dig Pits can create exciting messy play areas

Develop children's fine motor skills as they dig for pirate treasure!
From Mud Kitchens to Water Walls, It's Time To Add Messy Play To Your Playground
Sorry about the mess - but we're learning here!
And as the late author, teacher, and advocate for child-centred, play-based learning in the early years Bev Bos used to say - "If it hasn't been in the hand and body, it can't be in the brain!"
Messy Play is arguably one of the most essential components of an Early Years education. To the little ones of course it's child's play. Investigating and exploring textures and material properties and discovering 'how things work' - it's gooey, it's wet, it's muddy, it's sandy, it's fascinating fun that provides satisfying sensory stimulation - and with the right provision they can go for it with gusto at school or at nursery, when they're not always as likely to get away with it at home!
But while they may think that they are simply having a good old time with our Mud, Sand and Water Play Equipment, children are actually working really hard at building essential physical, mental, social and communication skills, and learning so much about the wonderful world in which they live.
Messy Play is what Preschool and Reception are all about! Ok maybe that's not strictly true - but looking through a child's eyes you can see where we're coming from. It really is turning work into play. And that's something we excel at here at Pentagon, even if we do say so ourselves.
Our range of Mud, Sand and Water Play resources for outdoor play and learning is unrivalled!
We have marvellous multi-sensory Mud Kitchens for crazy culinary creations - we have Water Walls, Water Channels and do-it-yourself Damming Stations. We have Sand and Mud Boxes with sliding lids that turn to seating - our Weighing Scales and Rope and Pulley Systems take some beating!
For 'heavy work' and handy-work and all those sensory seekers, we have Messy Play and Flow Tables to measure and pour with different beakers. Tuff Spot Tables, Construction Tables, Water Tables too. They're easy-wipe and easy-clean - no matter how much goo!
Your little learners will love using our Mud, Sand and Water Play equipment every day, whatever the weather - which can only add to their play and learning experiences. Incorporate them into your daily outdoor learning routines to help children to engage their minds and bodies ready for learning, and to support them in achieving all those developmental milestones that they're ready and waiting for.