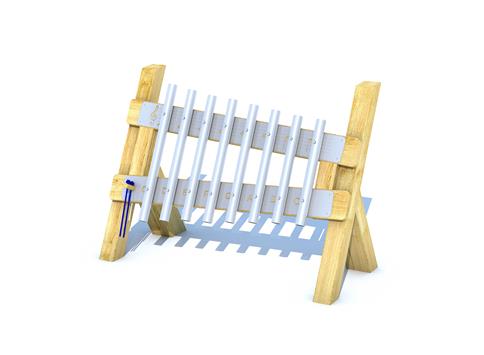 Mini Freestanding Chimes
Our product code: P-IC-MUS-MFC
Our Mini Freestanding Chimes are a fantastic piece of outdoor musical play equipment, designed specifically to inspire young musicians in primary school and nursery.

Tuned to the C major scale, this is the most basic 8 note scale, which is often learnt first when beginning to learn to play an instrument: perfect for younger children as they explore musical instruments and rhythms!

Since our Freestanding Chimes can be moved from one area to another area of the playground, children can be inspired to form their own orchestra as they are placed alongside other instruments or their own bands when placed on the performance stage to lead musical plays.

While working together to produce wonderful songs, rhythms and musical numbers, children are developing their fine motor skills, cooperation, coordination, communication, language and self-esteem through play.

Additionally, children will begin to practice independence as they replace the beaters in the holders after they are finished playing.

Constructed from high-quality stainless steel, the chimes are durable and long-lasting while providing plenty of cross-curricular play opportunities. Exploring scientific concepts, the children can investigate why the smaller chimes create a higher pitch noise while the longer chimes create lower pitch sounds.
Technical Details
Associated Documents
Material Guarantees
Technical Details
Size (L x W x H): 1398mm​ x 687mm x 1009mm
​Includes:
Music Beaters (PAIR) is the default option for this product. Musical Beaters with Wire Tethered (PAIR) option is available upon request. This will come at an addition cost.
Associated Documents
Please contact us for further information.
Material Guarantees
Please contact us for further information.