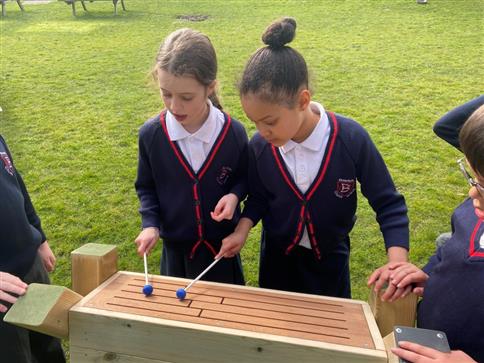 Mini Tongue Drum
Our product code: P-IC-MUS-MTD
Free delivery to mainland UK only, excluding Northern Ireland, The Scottish Highlands and Offshore Islands.
Our Mini Tongue Drum is a wonderful musical play instrument that can be situated in any area of the playground. Children can perform in their own orchestra when placed alongside other musical items or form their own bands as they play in concerts on the performance stage.

More commonly known as Slit Drums, our Tongue Drum promotes cross-curricular play as children can both explore the history behind the multi-cultural musical instrument as well as discovering their musical side for the first time!

Crafted from beautiful, hard, dense Sapele timber, our tongue drum produces smooth vibrations in the enclosed timber box when it is struck: creating magical melodies in the playground.

When struck, each tongue creates a different tune, enabling children to explore sounds and rhythms outdoors.

Additionally, don't worry about the drum being unsuitable for wet weather play as the drum has drainage features so that it can be used throughout all-weather, without the worry of the enclosed box filling with rainwater.

Since the drum has been angled, numerous children can easily and ergonomically stand and play the instrument together, while they improve their cooperation, teamwork, communication, language and self-confidence.

Striking an instrument, such as a drum, to produce soothing sounds is a fantastic way to enable children to explore their feelings and thoughts as they release any stress and worries they may be feeling: calming children and contributing towards promoting good mental health of children
Technical Details
Associated Documents
Material Guarantees
Technical Details
Size (L x W x H): 872mm​ x 491mm x 608mm
Frame made from High pressure treated 'play grade' timber
Hardwood Sapele 'tongue drum' top
Freestanding design
Mini Design for Nursery Settings

Includes:

2 x Beaters
Music Beaters (PAIR) is the default option for this product. Musical Beaters with Wire Tethered (PAIR) option is available upon request. This will come at an addition cost.
Associated Documents
Material Guarantees
Please contact us for further information.