Expand your learning facilities with a high quality, lasting Outdoor Classroom built with sustainably sourced materials. Following all current building regulations, these classrooms are constructed and installed on site, according to your needs and wishes. No matter the weather, pupils will be able study in the fresh air and experience an exciting change of learning environment with our expansive range that includes Gazebos, Canopies, Cabins and Lodges.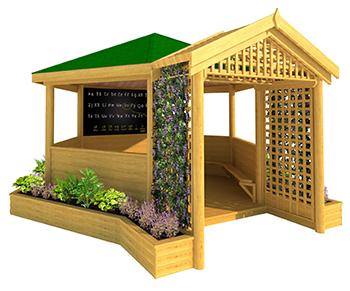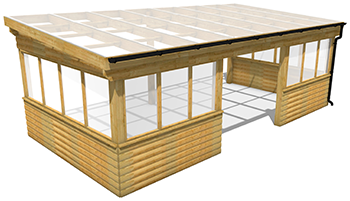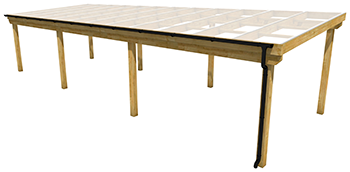 Take an entire class outdoors into a sheltered classroom where the elements can't disrupt the lesson

Create a free flow play environment which EYFS children can thrive within.

A truly waterproof roof protects children from the elements all year round.

Our Gazebos can promote mark making and literacy while providing the perfect classroom space.

An amazing range of outdoor classrooms suited exactly to your requirements

Our Gazebos can create a magical woodland getaway in your school

Enable your children to learn amongst nature

Extend your classroom with a Timber Canopy

Our Gazebos enable your teachers to take a full class of children outdoors to participate in lessons

Create an exciting EYFS free flow environment with a Timber canopy

Our Canopies are built to your requirements and can include many different features like storage

Take an entire classroom outside

Create a calming, sensory play area just outside your classroom doors

Create a practicle, sheltered space for outdoor learning and play

Provide your children with a calming, sensory space on their school playground

Provide your children with a sheltered and shaded dry space to learn and play

Create an exciting Outdoor Classroom anywhere in your school grounds

Our Canopies are designed to meet your school's outdoor environment needs.

Our Gazebos can create a magical woodland getaway in your school

Our Gazebos are built on site by our experienced installers to suit any unique requirement

Our Outdoor Classrooms feature a truly waterproof roof protecting children come rain or shine

Our Gazebos are built on site by our experienced installers to suit any unique requirements.

Out Canopies are built on site to your specification

Our Timber Canopies can be built to cover any size space.

Add extra options, like workbenches, to your Outdoor Classroom

Our range of School Canopies will provide the perfect solution to all of your free flow needs.

Our Gable-End Outdoor Classroom can be bespoke-built and suited exactly to your requirements.

Conduct experiments and examine wildlife in your own outdoor Science Cabin

A Playground Lodge can be used as a classroom, library, staff room or music room.
Our Outdoor Classroom Designs Bring Learning To Life
Whatever the weather, pupils can now experience the effectiveness of an outdoor classroom! A change of learning environment can be extremely beneficial to pupils and this sheltered area will add so much to your learning space.
Your Outdoor Classroom will be built on site according to your curricular and pupil needs. Built to the highest standard with great quality materials, this long-lasting fixture will benefit your school and classes for years to come.
You have the freedom to choose from our extensive range of options include Gazebos, vibrant and colourful Canopies, Science Cabins and Educational Lodges.
Within our variety of Outdoor Learning Hubs, you can include features selected to your specifications. Complete with benches, ramps and giant chalkboards or whiteboards, this product can be just as you like it!
These classrooms truly are an extension of your learning space and can be hugely beneficial to the learning abilities of your pupils.
Your sheltered learning area can be connected to your building or freestanding elsewhere on your grounds and can feature lockable doors or shutters for security purposes when the area is not in use.
Storage can be added to the units to provide your school with additional learning and play space within your indoor classrooms.
These facilities are extremely popular within primary schools as their versatility means they are both an outstanding play and learning space, offering extra seating, shelter, and educational facilities!
Why is an Outdoor Classroom right for your school?
A unique and different learning space to engage your pupils
Suitable for year-round use
Customised to your specific classroom requirements
Encourages social interaction
Sheltered space for playtimes
A quiet environment for time away from the classroom
An opportunity to get a breath of fresh air
Ideal for reading, play, writing, communicating, waiting, playing, or listening to music, art, and light exercise
Invigorate your school environment with a beautifully built and amazingly useful Outdoor Shelter, ready to be utilised for learning, play and reflective time for pupils of all ages.
Please contact us today to find out more about how an Outdoor Classroom may benefit your pupils or to book a free sales consultation with one of our Outdoor Learning Consultants!
Read More