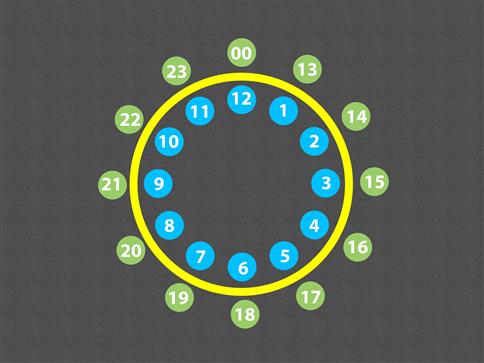 24 Hour Clock
Our product code: UN-SL-PM-24HC
Introduce Key Stage 1 and Key Stage 2 children to an important area of maths in a fun and exciting way with our Thermoplastic 24 Hour Clock Playground Marking.

Children will naturally familiarise themselves with the clock face as they see it every day whilst running or walking past. The clock face may even work its way into the children's imaginary games as a focal point.

As telling the time is such an important topic, children should be introduced to it in a fun, exciting and memorable way. Without a minute hand or an hour hand, it creates the perfect mathematics lesson resource.

As children begin to understand timekeeping on a 12-hour clock, they can move to the 24-hour clock. Drawing hands onto the clock and practising reading a clock in the playground is the perfect way to embed learning.

Technical Details
Associated Documents
Material Guarantees
Technical Details
Size: Ø3.5M
Solid Colour Design
Thermoplastic
Associated Documents
Please contact us for further information.
Material Guarantees

Thermoplastic Markings