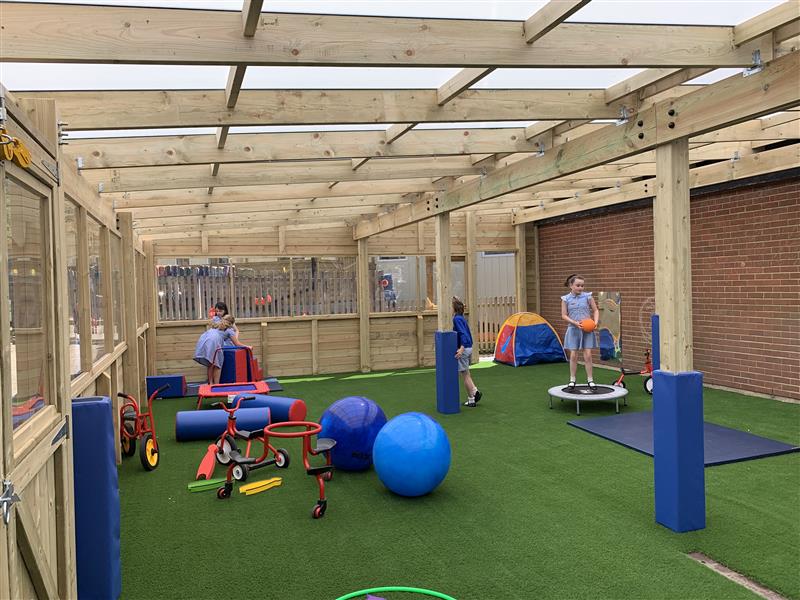 Two School Canopies For Sheltered Free Flow Play
Two excellent School Canopies Shelters at All Saints CofE Primary School, in Bexhill-on-Sea, have completely changed the face of their outdoor play and learning provision.
Our Playground Consultant, Donella Felton, worked with the East Sussex primary school to bring this project to light.
The school wanted to create two all-weather indoor-outdoor play and learning areas to make better use of the outdoor space available and to support outdoor learning activities all year round without having to worry about the weather and subsequent ground conditions.
We build outstanding Canopies and Outdoor Shelters for schools, offering the option to choose from our range of pre-designed structures (all of which meet Building Regulations approval), or to have something tailor-made to suit your specific requirements.
Whether free-standing or installed against the existing school building, all of our constructions are watertight, allowing free-flow outdoor learning across the curriculum all throughout the year.
At All Saints CofE Primary, they wanted a canopy that would cover the entire open area at their "Cooper's Corner". In addition to this, and specifically for their nursery children, they wanted a large canopy to create an extended indoor/outdoor area. We designed this in an L-shape to make the most of the usable space.
Before the installation could begin, we removed and disposed of the old canopy and timber fencing, which was no longer fit for purpose.
The next phase was the Nursery Canopy installation. For this L-shaped structure we included:
Planed and chamfered, pressure-treated timber cladding
A Polycarbonate glazed roof and windows for natural light and protection from the elements
Secure double doors to the front
An internal dividing wall to create zones
2 single doors for side access
Perimeter seating to the outside of the Canopy
A rainwater drainage system
A water butt for catching and storing rainwater for use in the Nursery garden
The final phase was the installation of the Canopy over Cooper's Corner. We built this Canopy to cover the entire area in the same style and with features to compliment the Nursery canopy.
We installed our Playturf Artificial Grass Surfacing within both Canopies to create a beautiful, bright, soft and tactile surface for the children to play on. It's great for all sorts of learning activities and helps to avoid injuries from slipping when children are enjoying water and messy play.
We extended this to some of the surrounding outdoor space to create further all-weather active play provision.
The children returned after the school holidays to find plenty of wonderful new space to explore! They are delighted with their spacious new indoor/outdoor areas and their teachers have already set up lots of engaging outdoor play and learning activities to keep them busy!
Staff at All Saints CofE have been using the Cooper's Corner Canopy for early morning interventions as well as a large space for learning through active play in all weathers, so it's made a huge difference to staff and pupils alike.
Special features, such as the built-in bench seating on parts of the outer wall of the canopies, extended roofing to provide additional outdoor shelter and bespoke steps and ramps to ensure easy access for all, made this project really unique to All Saints CofE Primary.
They're able to benefit from all angles of the structures and tailor their uses to suit their specific requirements as the academic year progresses and the seasons change.
It's wonderful to see just how much additional play and teaching space the canopies have brought to the school and how much the children are clearly enjoying easy access to the fresh air!
We offer a free, expert, no-obligation consultation service for any school or nursery wishing to develop their playground into a curriculum-focused and active outdoor-learning and play environment. You can view our full, fantastic range of Outdoor Classrooms. Please do not hesitate to Contact Us Here to book your free consultation.