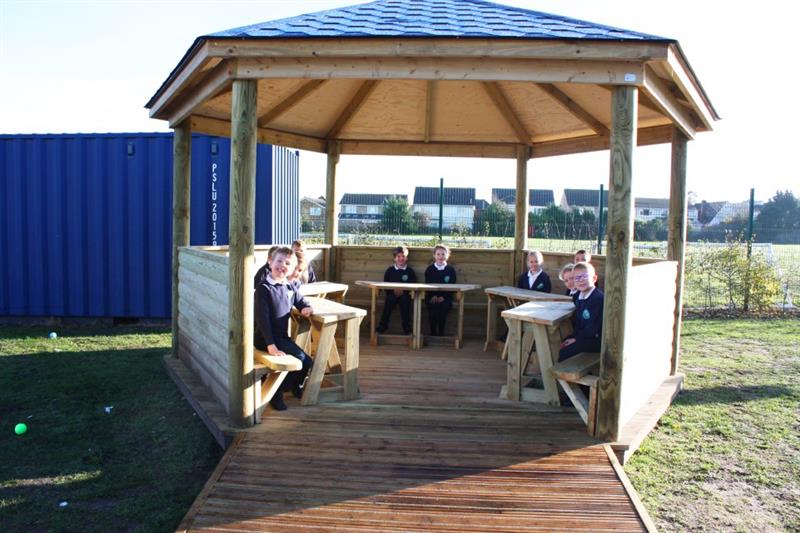 A Universal, Multi-Purpose Sheltered Space for Outdoor Lessons
Avonwood Primary School in Dorset have a dedicated PTA, who run and organise many events over the course of the year to raise money for the school.
Their latest fundraising mission was to improve the outdoor environment and create a universal, multi-purpose space for outdoor learning.
Our playground consultant, Nicole Fairman, was delighted to work alongside the headteacher, Chris Jackson, and their fabulous PTA to bring their project to life.
After discussions about our wide range of outdoor classroom options, it was unanimously agreed an outdoor gazebo was exactly what they were looking for in terms of accessibility, practicability and functionality.
A Weatherproof Space for Year-Round Learning
With extensive grounds, the school decided that an underused, semi-circle grassed area would be the perfect space for their new Outdoor Gazebo, and with this agreed our talented Installation team got to work!
A 5m Hexagonal Outdoor Gazebo was constructed with a wide range of features to ensure it would become home to a variety of uses, used throughout the school day by all age groups.
The Outdoor Classroom includes:
Freestanding Work Stations to ensure children have a study space to rest their workbooks and participate in lessons effectively.
Ramp to guarantee that the classroom can be used by generations of pupils and to keep the decked base a mud-free zone.
Internal Benches to provide plenty of comfortable seating.
A water-tight roof to enable the space to be used throughout the four-seasons and ensure that the weather doesn't interrupt learning.
Pupils and teachers alike have loved using their gazebo as a space to take learning outdoors into the fresh air, with Year 1 practicing their sentence writing outdoors and Year 2 taking science lessons into nature!
During lunchtimes and playtimes, the school have even been using the gazebo as a library for children to relax and sink their teeth into a good book away from the hustle and bustle of the busy playground.
The outdoor classroom has created a calm and wonderful outdoor learning space, where all ages of children can participate in exciting lessons as they breathe a breath of fresh air and concentrate on the learning at hand.
"We are so pleased with the outcome..."
Chris had some lovely feedback for us once the installation was complete:
"The installation went really well, so professional considering even during Covid times and they did everything immaculately. We were so pleased with the outcome and we were all very impressed that the gazebo was built on site as sometimes you expect things to arrive already done and they were a very skilled team!"
Would you like to create an inspiring space for outdoor lessons? View our full range of Outdoor Classrooms Here or Contact Us Here to begin your journey with Pentagon Play.
If you'd like to view more examples of our work in Dorset, visit our Dorset Case Studies Page.