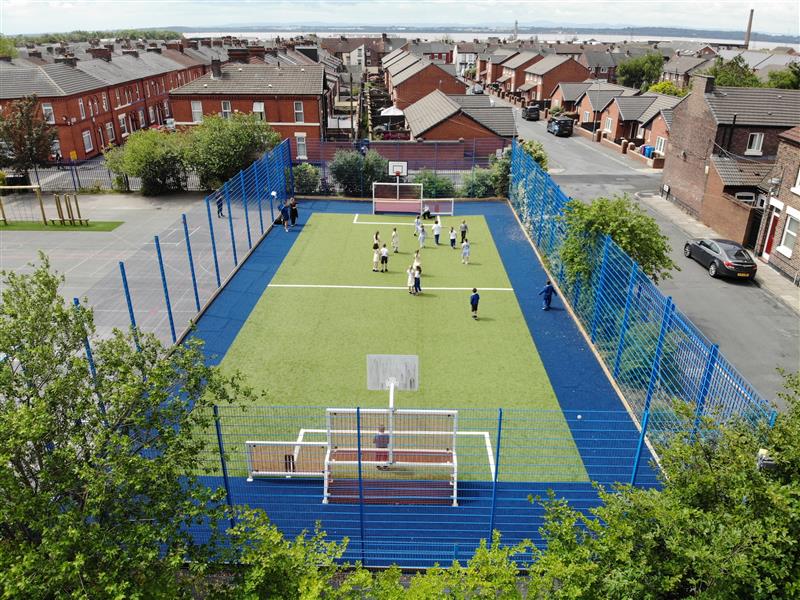 Stimulating Active Playground Equipment For EYFS, KS1 and KS2
Our playground consultant, Ian Wood, has been working on an exciting outdoor revitalisation project at Banks Road Primary School in Liverpool.
The project has seen the development of a new EYFS playground for younger children, as well as improvements and additions to the sports and recreational facilities available for the juniors.
With sport having played an influential role in Ian's life, both in his early career as a sports coach and later progression into primary school teaching, Ian was well placed to advise and assist the Headteacher and Deputy Head at Banks Road, working to a budget to greatly enhance what the school already had in place.
EYFS Playground Equipment
We began by resurfacing the outdoor area for the EYFS pupils to create a safe, all-weather space that will allow them to play outside all through the year.
Our all-weather Artificial Grass Playground Surfacing is a beautifully tactile surfacing option which works particularly well in EYFS playgrounds, supporting young children in their play and reducing injuries where there is much running around, climbing and exploring going on.
We installed our Artificial Grass throughout the area, combined with a bright blue Saferturf river pathway that instantly brought colour and life to the space. This layout presents great opportunities for role play and physical literacy while the textures and colours add sensory stimulation to playtimes.
Four of our fabulous Den Making Posts bring an open-ended, imaginative and creative play base to the area. Each post has holes and grooves for threading and weaving, hanging props, connecting the poles together so that the children at Banks Road can build their own dens in their own style.
It's a great physical activity using gross motor movements to lift, carry and construct, and working fine motor skills to improve dexterity as the children thread, tie, loop and complete the more intricate details of their den.
And whether they choose to use them for role play games, or to create a magical, inspirational, themed sheltered space for outdoor reading, storytelling and class discussion, the possibilities are endless.
To bring active play and more physical challenges to the area, we included a set of our innovative Get, Set Go! Blocks. With contours inspired by the Mendips Hills, these climbing blocks provide a combination of curves and angles for the children to climb, crawl, step, balance and jump across from one to another.
They're great for improving children's confidence and upper and lower physical development, and because they are moveable, teaching staff can set them up in any combination of course they wish.
The children at Banks Road were very excited to get going on their course, they have been getting braver and more adventurous each time they complete a loop!
Trim Trails
Not one but two magnificent new Trim Trails are now standing proud at Banks Road Primary! We installed one for the Infants and one for the Juniors, a sure way of satisfying all of their physical development needs. Whether used during energetic playtimes or to bring an exciting new vibe to PE lessons, they really have raised the game.
Our Trim Trails are specifically designed for children to increase their upper and lower physical development and improve their confidence when taking on new challenges.
A combination of log, rope and climbing wall challenges, children have to plot and make their way from one end to the other, all the while working on balance, core stability, physical strength and both fine and gross motor skills.
They provide all the stimulus needed in an outdoor playground environment - the children at Banks Road are thriving and they are having a lot of fun too!
We installed our Playturf Deluxe Artificial Grass around both of the Trim Trails to provide a lovely cushioned surface under each, and to make sure that they can both be used all year round, no matter what the weather brings.
MUGA Pitch
Some seemingly simple changes to the existing MUGA at Banks Road, which runs alongside the KS2 playground for access by their juniors, have made an enormous difference to the way in which this facility is now used.
The MUGA was previously an unforgiving concrete area, which limited its use as a sports facility at the school. We have turned this around by installing our amazing all-weather Artificial Grass, with sports markings, onto the pitch.
It allows the children to comfortably enjoy using the space for competitive sports and ball games of their choice.
Surrounding the edges of the pitch, we installed our bold blue Saferturf Surfacing to create a clearly-designated safe area for pre-game warmup exercises and floor-based exercises around the perimeter. It's a great area for spectators to cheer on their classmates from the sidelines too!
The improvements mean that the children can now use their Multi Use Games Area all year round, for outdoor games and PE lessons, and for recreational use at playtimes and after school clubs. It's a self-draining, maintenance-free space.
Because of the high quality and durability of our Artificial Grass, which has been rigorously tested to FIFA standards, there is a much lower risk of injury from slips and falls. It's much kinder to young hands and knees and avoids cuts and grazes when they inevitably do start learning to tackle in ball games and take a few tumbles.
All age groups, from Nursery to KS2, now have energising outdoor play facilities to participate in active play and sporting activities. The children love their new playground equipment and cannot wait to go outside each and every day to participate in healthy, physical fun!
If you would like to make improvements to your school's outdoor play and learning environment, or if you are considering a complete playground redevelopment, we can help you. Please do not hesitate to Contact Us Here to find out more about our products and services. We offer a free, expert, no-obligation consultation service for any school or nursery wishing to develop their playground into a curriculum-focused outdoor learning environment. You can view our full range of outstanding outdoor learning, play and sports products for schools.