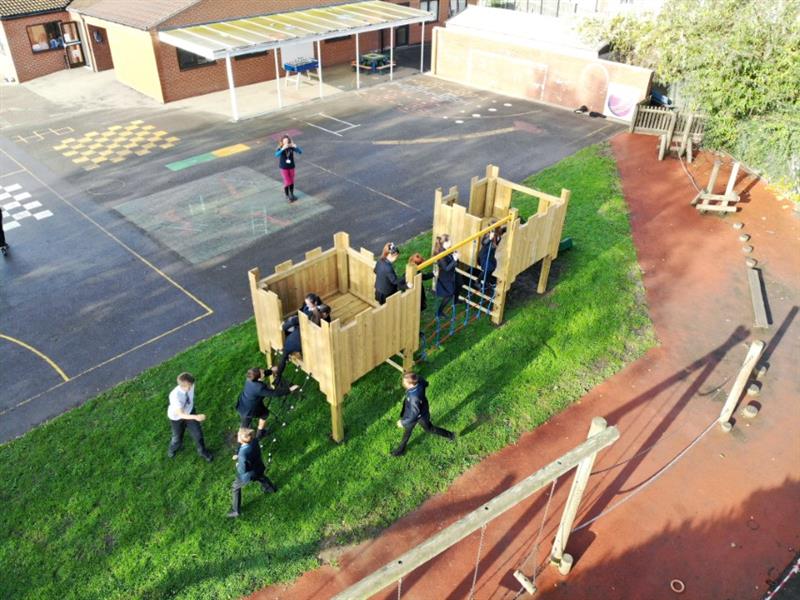 An Energising Playground Tower To Target Physical Development Outdoors
Boston St Mary's RC Primary Academy, located in Lincolnshire, wanted to extend their children's physical play opportunities, while promoting imaginative play outdoors.
Our playground consultant, Marion Rolph, met with the school's senior leadership team to discuss their exciting plans further before designing the space with challenging physical play equipment that met the needs and budget of the project.
Marion presented her fabulous playground design, including our Bolsover Play Tower, to the school team and they loved it!
The Energising Bolsover Play Tower
As the school wanted to target both physical and imaginative play in the playground, the castle themed Bolsover Play Tower was the perfect piece of exciting equipment!
Not only does the energising play tower extend the physical play opportunities presented to the children, it also inspires imaginative play games and role play activities amongst children as they use the area as a focal point for their creative games.
Presented with a challenging selection of entry and exit points, the children are able to select how they gain access to the tower along with their exit strategy. The vertical climbing wall, climbing net and ladder ensures that children have a varied selection of challenges to conquer, while the slide provides them with an exciting exit back to the playground!
Separating the two large decks is a challenging net traverse, which relies on children's balance, grip, coordination, upper and lower body strength to cross to the secondary tower. The brave queens and kings of the tower are building up their climbing confidence as they move across the challenge to the other side.
Through the inclusion of varied difficulty challenges, it ensures that safe risks are taken and climbing confidence is developed. Children can build their confidence one climb at a time as they attempt the obstacles!
Underneath the decks, there is plenty of space for the children to relax away from active play: building dens or sharing stories with one another about the mystical middle ages.
Racing to the top of the structure, the children love pretending they're in a real castle as they battle it out to find out who the queen or king of the castle this playtime will be!
We loved working with Boston St Mary's RC Primary Academy to enhance imaginative play and extend their children's physical play opportunities in the playground. If you'd like to enhance your school's playground with the addition of a fantastic Playground Tower, please feel free to Contact Us for a free, no-obligation consultation with one of our expert playground consultants.