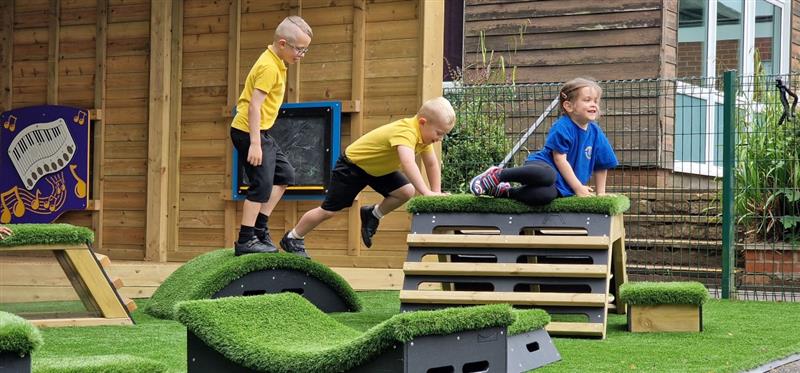 The Customer
One of Bramley Vale Primary School's values that they strive to instil in their pupils is a sense of adventure.
With the help of Pentagon Play, they've been able to add some new equipment to their outdoor area that helps their pupils achieve just this!
---
Their Objectives
Bramley Vale had one key objective that they needed this space to meet.
They wanted to provide active play resources that offered pupils the facilities and the opportunity to test out their climbing skills, push their confidence and discover the benefits of climbing.
Choosing something that offered the right pricing, could meet their teaching and learning needs, and offered that sense of adventure that they hoped for.
"I went on and had a look and it was really competitive prices"
---
Their Approach
Bramley Vale used the Pentagon Play Online Shop.
There are plenty of play options available to schools across the UK on our Online Shop, and they're all freestanding and movable.
In terms of active play, which Bramley Vale were sure that they wanted, we offer a wide range of different low-level climbing facilities for pupils still building their climbing skills and confidence.
The Get Set, Go! Blocks are a customer favourite for active play, as not only do they look great with their luscious green Artificial Grass top, but also provide an active play trail that can be rearranged daily to create fantastically engaging challenges.
Bramley Vale opted for The Cheviot Set, our largest set of Get Set, Go! Blocks offer the most challenges for pupils to explore.
With 15 blocks to be rearranged, they will never run out of challenges to stimulate their little learners' brains.
This is the perfect facility for younger pupils to explore and expand their gross motor skills through play, clambering and climbing along the blocks and excelling in their hand-eye coordination.
---
The Results
Pupils can now enjoy this low-level climbing facility where they will love building their gross motor skills.
Testing their balance, agility and speed, pupils can cross the new Get Set, Go! Block routes are created daily, creating stories and adventures with their friends, and building essential risk-taking and evaluation skills.
We're so glad that the Pentagon Play Online Shop could provide Bramley Vale with the freestanding equipment they really wanted and it was everything that their new space needed.
Browse our Online shop to find the perfect play products for you!