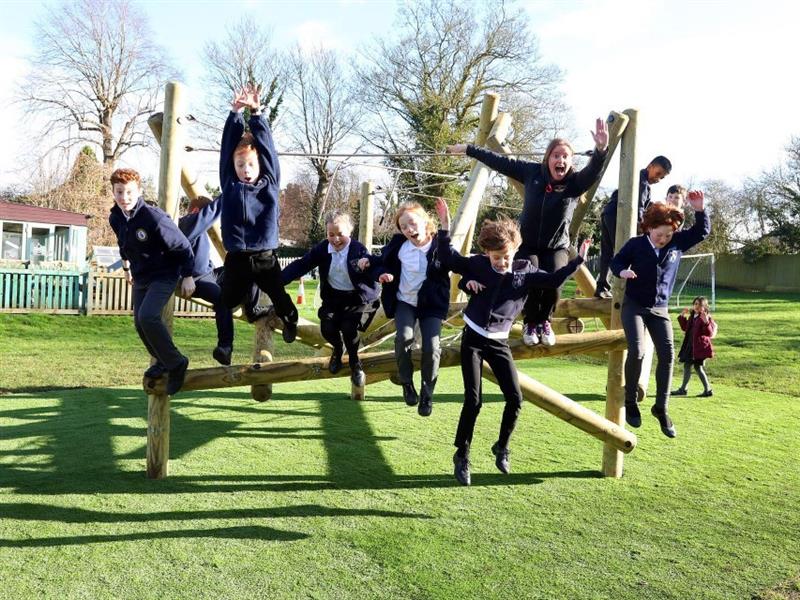 Injecting Fun and New Opportunities for Physical Development Into The Outdoor Environment
Cranford Primary School wanted to improve their pupils physical play opportunities by upgrading their outdoor learning environments.
Our expert outdoor learning consultant Marion Rolph met with the Northamptonshire based school to develop their outdoor areas.
A racetrack for EYFS children
Beginning with the early years playground, we installed a track onto a section of grass for the little racing drivers to zoom their bikes, trikes and scooters around.
This black Saferturf roadway represents a real road with the white lines in the middle of the track. As an all-weather playground surface, the children never have to worry about the elements interrupting their playtime.
Not only does the track provide the children with an excellent way to develop their physical fitness, their understanding of the world is also being enhanced. Teachers can take groups of children into the outdoor area to practise Stop, Look and Listen before taking their learning out into the real world.
Promoting adventurous play games in KS1 and KS2
For the KS1 and KS2 children attending the school, we've installed one of our huge log climbing frames to inspire adventurous play games.
Our Tryfan Climber is an energising non-prescriptive challenge that enables the children to climb in or jump off anywhere they wish as there is no obvious way for the children to enter and exit the space.
The children can balance along the beams, hang on the ropes and jump from the logs back onto the ground as they overcome this exciting challenge. The Tryfan Climber enables children to build up their climbing confidence, upper and lower body strength, core stability, balance and gross motor skills.
Underneath the climber, we surfaced the space with our fantastic Artificial Grass to ensure energising active play can take place come rain or shine! It is also a lovely soft surface for the children to relax and socialise on away from climbing and swinging.
"Our children absolutely love playing outdoors…"
The new outdoor play spaces have been a big hit with both the children and the staff at the school.
As a result, headteacher Richard Albert provided us with some excellent feedback about their development:
"Our children absolutely love playing outdoors in our beautiful setting and they're all very excited about the new equipment. It was an absolute pleasure to see their faces as they finally got to have a go. Our pupils will be able to engage in more active, adventurous play throughout the year on the new Active Climber with its all-weather surface."
Are you looking at improving the physical play opportunities offered to your children? View our huge range of active play products!
Complete our Online Form to begin your journey with Pentagon Play and one of our consultants will be in touch to arrange a free consultation.
If you would like to view more examples of our playground projects in Northamptonshire, visit our Northamptonshire page.