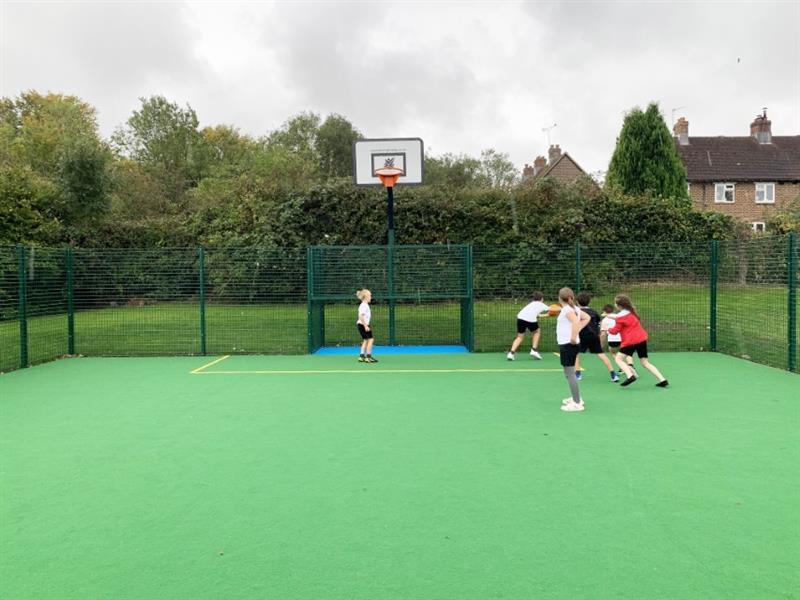 A MUGA Pitch That Will Inspire Children to Lead a Healthy Lifestyle
Working in partnership with East Meon Church Of England Controlled Primary School, we met with the headteacher, Amy O'Toole who was determined to enhance the school's sporting provision and enable PE and ball games to take place in all-weathers.
Our outdoor learning consultant Donella Felton worked closely with Amy to design and install a dedicated sporting facility that would be located on the school's field.
Groundwork preparation is key when it comes to multi use games areas
To create an all-weather muga pitch onto grass, we firstly excavated and prepared the space before laying our high-quality sport baseworks.
This preparation creates a self-draining surface and provides a sustainable base for a wide variety of sports. Once laid, the team fitted our all-weather multi-sport velour artificial grass surface.
A space that will inspire generations of children to lead a healthier lifestyle
The new 24m x 12m sporting facility includes a wide range of features to accommodate a wide range of sports. We installed clear line markings, recessed goals, and basketball posts.
To create an enclosed area, we installed sports fencing designed specifically for sports pitches. Our sport fencing is a rigid mesh system with rebound panels that will withstand the rigours of ball games.
The new fencing enables spectators to easily see through to watch competitive games as they cheer for their team! Moreover, no extra staff are needed during playtimes as teachers on break time duty can easily supervise the area too.
Our new Multi Use Games Area has created a multifunctional space for a variety of ball games and primary school sports. Children can play, compete, and practice a wide range of sports including, but not limited to, basketball, football, netball, and hockey.
This new playground addition will increase sport participation, develop fundamental movement skills, and inspire children to lead a healthier lifestyle
"The MUGA has transformed the way we play sport…"
The children and teaching staff love their new enclosed space for physical activity.
Amy was delighted with the new area and has seen the benefits of the Multi Use Games area for herself. She provided us with some fantastic feedback:
"The MUGA has really transformed the way we play sport. It has encouraged children to participate in sports they would not have tried before. So much so, we are thinking of adding further line markings (such as Netball) to the court as the children are eager to be able to play netball, too"
Are you looking to create a dedicated sporting facility in your school grounds? You can visit our focused MUGA page for inspiration and to understand the solutions available to you or view all of the fantastic areas you can create with your Sports Premium Here.
To arrange a free consultation with one of our Outdoor Learning Consultants, complete our Online Form and we will be in touch to start your journey.
If you would like to view more examples of our work in Hampshire, visit our Hampshire page.