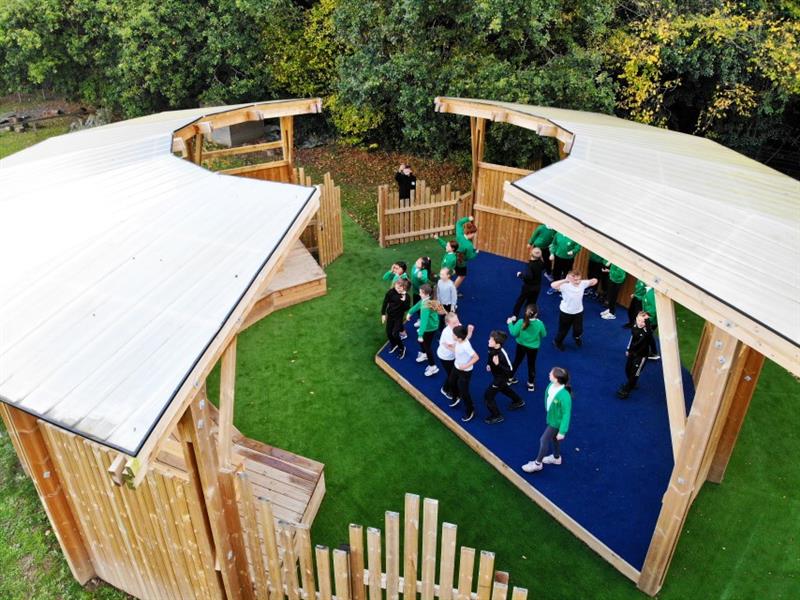 Embracing all Aspects of Performing Arts, Literacy and Culture Outdoors
Ewloe Green Primary is an exciting and motivating primary school in North Wales, where working and performing together is an important part of the learning culture.
And their motto, 'Always Aiming High,' could not have been more apparent when we went to visit the school to discuss their ideas for a new outdoor performance area, to be set within their beautiful grounds.
Our Clever Products Team Designed Something Special…
It was clear that they wanted something special, where large groups of children would have unlimited opportunities to gather together and enjoy learning outdoors as part of a broad and balanced curriculum - but also with wider opportunities to perform for others and to extend their many talents.
We were thrilled to be asked to take on this challenge and we couldn't wait to get to work on it!
Our design team set about producing the unique design to present to Ewloe Green for their approval.
After a few little tweaks here and there, our brilliant installation team were ready and waiting to bring the drawings to life….
A Beautiful and Inspiring Structure for Outdoor Performances
This spectacular Amphitheatre Structure is crafted from our slow-grown European Redwood timber - sustainably sourced and certified by the FSC and the PEFC - to form a split circle.
To one side we constructed a raised, 3-tiered, bench-seating semi-circle, comfortably seating large group audiences of up to 66 people.
This looks out over a large, raised platform stage with a performance area over 8 metres wide, on the opposite side.
We surrounded the amphitheatre with flat-top fencing to create a more intimate, sheltered space, and connected the two semi-circles at each end with flat-top fencing entry gates.
We set the fence panels at staggered heights to create a funky, artistic effect. Open rear-access to the stage area allows performers to make a dazzling entrance - and a pebbled area at the back provides plenty of room for waiting performers and prop changes!
We formed a polycarbonate, curved canopy roof design over the seating and stage to provide shelter from the elements. Its opaque nature lets the light in, but filters bright sunlight so as not to spoil performances.
An open-circle feature in the centre is sympathetic to the overall amphitheatre design, creating a viewing-roof effect for atmospheric sky-gazing!
Visually Appealing Surfacing to Soften the Sound of Heavy Footsteps
We covered the performance stage with our Dark Blue Saferturf to soften the sound of heavy footsteps, and provide a gentle, visually appealing and tactile surface that clearly defines the stage space. It's a weatherproof, non-slip and self-draining playground carpet so it's perfect for year-round use.
We installed a Green Saferturf pathway that leads invitingly from the playground, across the field to the amphitheatre, and spills over into the space between the stage and the seating.
This will help to keep the amphitheatre clean, mud-free, and easily accessible all throughout the year, even if the surrounding field does become wet and muddy.
Performing Arts is a Huge Part of a Broad Curriculum
This inspiring structure is wonderfully reminiscent of an Elizabethan playhouse - and it certainly does bring the magic of the theatre to Ewloe Green Primary school.
Set in a clearing at the edge of the school field surrounded by trees - the stunning backdrop only serves to add to its 'wow' factor as the children join together to sing, dance, read, listen and learn and even host assemblies in the open air.
Ewloe Green Primary boasts a broad curriculum - one that underlines the importance of a learning environment that supports the mental, physical, spiritual, moral and cultural development of the child.
Performing Arts are a huge part of this, and we know that the new amphitheatre will bring the pupils much joy to their learning journey over the years.
The school is also very keen to promote its Welsh ethos, and celebrate the culture of Wales. Their pupils love to sing and perform, and they're brilliant to watch!
Competing in Local, County and National Urdd Eisteddfod has become an important part of the school year, and other special events at the school, including concerts, plays, and performances by the school choir are popular with school families and the local community alike.
This new addition to the school grounds brings the welcome and welcoming additional space that they needed, and significantly enhances their provision for further developing the children's skills and putting on performances. We're looking forward to seeing how they grow from strength to strength - all we can say is watch this space!
Would you like to improve your school's outdoor learning environment? We can help you! We are the UK's Number 1 Playground Specialist, and you can find out more about what we do, and view our full range of products for schools and nurseries Here. Please do Contact Us to book a free consultation.
You can also view all of the playground projects completed for primary schools and nurseries in North Wales by visiting our dedicated North Wales Playground Projects Page.