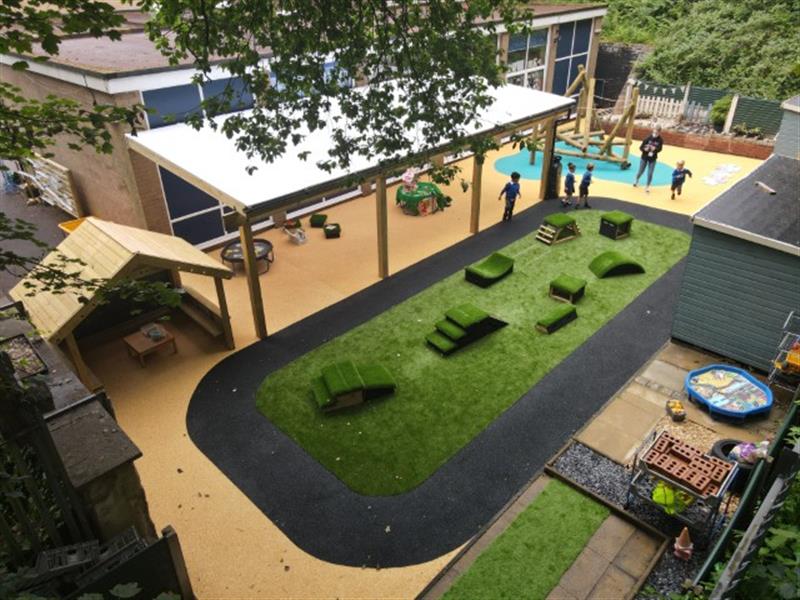 A First Class Outdoor Learning Environment For The Lucky Early Years Children
Something very magical has happened in the EYFS children's playground at St Stephen and All Martyrs' CofE Primary School in Bolton…
Natalie Richardson, one of our expert playground consultants, was delighted to take on an exciting playground project to create a first class outdoor learning environment for the early years children.
This stunning playground design targets all areas of the early years curriculum, whilst providing plenty of fun filled educational play activities for the little learners to immerse themselves into.
Zoning the space for free flow play
As the previous outdoor space had become tired and worn, we begun by laying brand new surfacing to inject colour into the area. The new surfacing ensures learning won't be disrupted by adverse weather conditions.
A mixture of artificial grass and Wetpour surfacing has created ideal zones for different types of activities, whilst a 9m x 5m Timber Canopy spanning the length of the building offers an immediate connection to the outdoors and supports an easy free-flow transition between the indoor classroom and the great outdoors.
A Moveable Adventure Challenge
In the centre of the playground, we installed a huge black Wetpour track for the little race car drivers of EYFS to ride their trikes and scooters around with a vibrant artificial grass island.
An arrangement of our Get Set, Go! Blocks – The Mendips Set has created an extraordinary adventure play challenge for the children to complete.
The blocks can be moved around to create new courses as the children's confidence with stepping, jumping, balancing and climbing increase.
Messy Play Activities
Messy, muddy play opportunities was a must!
A mini Mud Kitchen, Rope and Pulley Materials Mover and Water Table situated in the corner of the playground has proven to be very popular amongst the budding chefs of Reception.
Chocolate cake, mud muffins and mud pies are some of the delicious recipes the children have found ingredients for as they stir, mix and pour their tasty blends into baking tins before placing them into the oven and serving them to their hungry customers.
This is a fantastic area for inspiring imaginative, role play games and improving mathematics, literacy and cooperation skills!
Moreover, the Giant Playhouse with Chalkboard, Walls and Benches doubles up as a café as the children carefully walk across the playground to serve their customers their orders. The children love writing their recipes on the back of the chalkboard.
A Non-Prescriptive Climbing Challenge
Surrounded by bright blue, impact-absorbing Wetpour surfacing, our Harter Fell Climber provides the little adventures with a space to swing and climb as they tackle the log and rope climbing frame.
Offering multiple ways to traverse, several crossing points and crossing routes, the children can scale the climbing frame and take a leap of faith from the top. While overcoming this challenge, children will build their climbing confidence, upper and lower body strength, core stability, balance and gross motor skills.
The school are more than happy with their stunning playground design and cannot wait to open the doors everyday and let the children out to learn through play!
If you are wanting to add a magic touch to your playground to create it into a creative or imaginative area please don't hesitate to contact us here.
If you are needing some inspiration for your playground, please take a look at our dedicated Bolton playground developments page here.