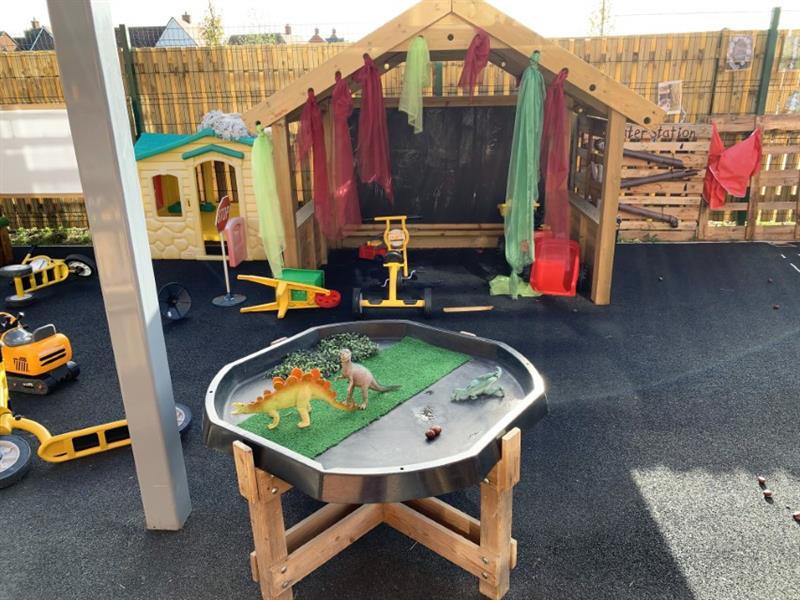 A Phenomenal EYFS Playground Redesign That Encompasses All Areas of Learning
On our first visit to Kings Gate Primary School in Wiltshire, Donella Felton, one of our expert playground consultants, found a blank canvas that was just asking for some fun, inspiration and exciting elements to be injected into the outdoor area.
As the school is a new build school, the space was previously a plain black Wetpour area, with a lovely metal canopy installed outside of the classroom doors.
The excitement around the project begun to build as Donella began readying plans and outlining ideas of how we could develop this fantastic space into a play area that encompasses the seven areas of learning.
A Space Where Imaginations Can Run Wild
Creative den building and role play activities can come to life thanks to a Giant Playhouse with Chalkboard and Wigwam Den.
Little learners can have a fabulous open-ended play space, where their imaginations can run wild, participating in exciting games and role-play activities.
The den making holes at the front of the playhouse and Giant Chalkboard are fantastic for encouraging the children to set the scene of their games, or allowing adults to take the lead and promote ideas in line with their topic of the week.
A Giant Mirror on Posts encourages interactive play as the children dress up and observe their own reflections as they play and develop positive self-awareness – the children absolutely love making funny faces to their reflections!
Material Exploration and Natural Play
What young child doesn't like to get into a huge sand pit, dig, explore and build!
A key area of the new playground is the material exploration zone consisting of one of our Large Covered Sand Boxes and a set of Weighting Scales to provide plenty of opportunities for outdoor maths learning.
Little learners can climb into the huge sand box, feeling the sand fall through their fingers as they play together, imagining far away sandy places or transporting themselves to a building site as they weigh out the amount of sand they need. This fabulous new area is brilliant for inspiring the children's inner creative sparkle.
When not in use, the sand box turns into a stage and the children can step up, giving singing, dancing and star performances!
The school also felt it was essential they inject a little bit of nature into the area.
Our Corner Planter Bench looks beautiful planted with so many different flowers! The children can spend time in this area relaxing, socialising and learning a little bit more about the plant lifecycle as they watch their flowers grow.
Early Literacy Skills and Fine Motor Skills
To create a calm area for outdoor literacy and fairy tales to come to life, we installed our Communication and Language Zone in the corner of the playground.
There's a storytelling chair for young readers to sit tall and five moveable grass topped seats for listeners to sit comfortably on as they enjoy their favourite books.
At either side of the storytelling chair, we added a giant chalkboard and a giant whiteboard to encourage children to draw, scribble and write - enhancing early literacy skills and fine motor skills in the process.
The children and staff alike absolutely love their new outdoor learning environment, and with plenty of opportunities for learning through play, it has truly enriched the children's learning!
Are you looking at improving your EYFS outdoor area? View our huge range of playground equipment for EYFS here and create your wish list.
We have developed new ways to conduct playground consultations safely in these difficult times. Contact Us Here to begin your journey with Pentagon Play.
If you would like to view more examples of our playground projects in Wiltshire, visit our Wiltshire page here.