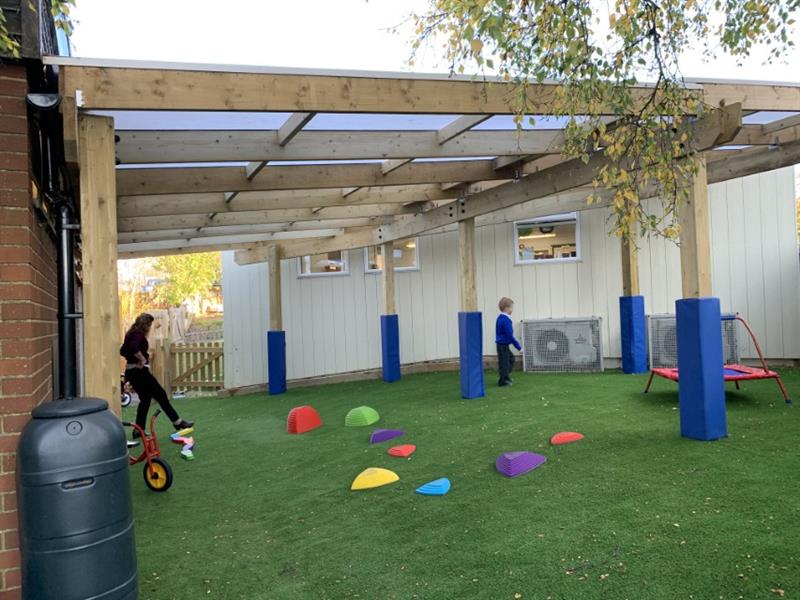 A School Timber Canopy for Sheltered, Free Flow Learning Activities
We were excited to be back working with the wonderful teaching staff and children at All Saints Primary School for another Timber Canopy project, following our work on two timber canopies in 2019.
Our playground consultant, Donella Felton, worked alongside the East Sussex primary school to bring this new outdoor classroom idea to life.
An Indoor-Outdoor Play Space
The school wanted to create an all-weather, indoor-outdoor play and learning area that would not only make better use of the outdoor space available, but also support learning activities year-round, without having to worry about the weather and ground conditions.
Since the area was a sloped space right outside the classroom doors and between two buildings, it couldn't be used as effectively as the school would've liked.
Because of this, we began by levelling the area to create a more practical incline for the children to play on before the huge Timber Canopy was installed.
For this triangular shaped structure, we included:
A polycarbonate glazed roof that allows natural light to flow through into the space. This ensures it is both bright and inviting, whilst protecting the children from UV light and adverse weather conditions.
Foam Post Protectors to create a safer environment for the children to run around in, protecting the young learners from bumping into the exposed posts.
An All-Weather Surface for Year-Round Play
As the previous ground conditions were not ideal, we surfaced the space with our Playturf Artificial Grass Surfacing to create a beautiful, bright, soft and tactile surface for the children to play on.
It's great for all sorts of floor-based learning activities and helps to avoid injuries from slipping, tripping and falling during play.
We even extended this to some of the surrounding outdoor space to further the all-weather play provision!
A perfect transformation has been complete!
An unused outdoor space has become a practical, multi-use, all-weather space that has brought additional play and teaching space to the school.
Donella loved going back to the school to see how much the children are enjoying easy access to the fresh air.
Explore the other two canopies we've installed for All Saint's Primary School!
Would you like to create an additional play and teaching space in your outdoor environment? Take a closer look at all of our excellent Outdoor Classroom Options Here or to begin your journey with Pentagon Play, Contact Us Here. One of our expert consultants would love to meet you!
We have completed many excellent playground transformations across the country, view all of our excellent playground projects completed in the East Sussex area on our dedicated East Sussex Page Here.