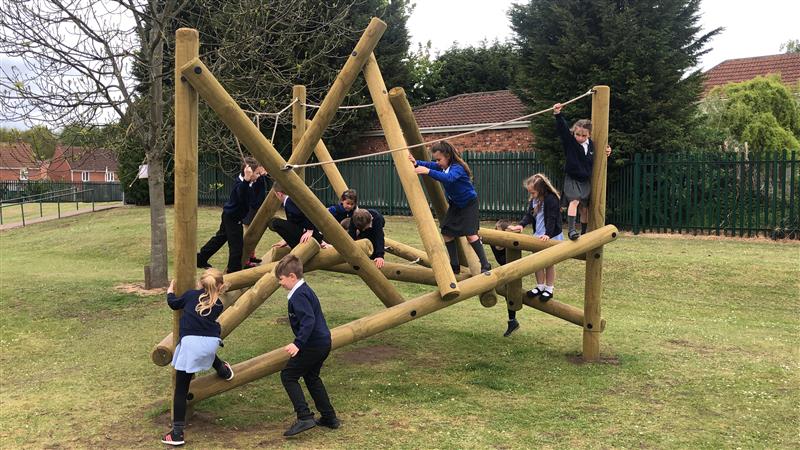 An Impressive Multitude of Active Challenges for Physical Development
The field at Grange Lane Infant School in Doncaster has had a huge makeover!
From play grass to a challenging adventure play zone, our playground consultant, Dan Young, has fully enjoyed working alongside this passionate school to inject active play and imaginative play inspiration onto this school field.
A Challenging Trim Trail for Physical Development
Along the school perimeter, the infant children have seen a challenging Trim Trail constructed, proving them with a multitude of challenges to conquer during playtime.
Beginning with an inclined balance beam and walk and stretch obstacle and ending with a net traverse and huge climbing wall, the trim trail gets progressively harder as the children complete the challenges.
Adventurers can move through the trail, testing and trying their upper body and lower body strength along with their fine and gross motor skills.
It's also been lovely to hear how the children have been motivating one another to give the obstacles another try if they don't complete it the first time!
The children have never given up on a challenge, every playtime they try again until they have completed – the joy on their face, when they manage to complete a challenge they once couldn't, is magnificent!
A Rope and Log Climbing Frame for Adventurous Games
Opposite the trim trail, we also installed one of our impressive log and rope climbing frames – the Bowfell Climber.
This humongous playground climber, complete with integral scramble nets and rope handrails, is an excellent resource for the children's climbing confidence s they traverse around the logs and climb higher and higher towards the top.
Underneath the climber, children have plenty of space to relax away from active play and build dens as they crawl underneath the pyramid shapes.
This magnificent climbing frame is truly open-ended, allowing children to climb in any way they like – it has endless possibilities for sparking creative games amongst the children!
Collette Jones, a Year 2 Teacher at Grange Lane, had this to say about the newly completed development:
"It's so nice for this young age group to have something appropriate for their age that provides them with a new challenge to test and improve their physical skills."
Is your school playground missing adventure play challenges? Contact Us Here to begin your journey with Pentagon Play today or view our amazing selection of Active Play Equipment for Primary School's Here.