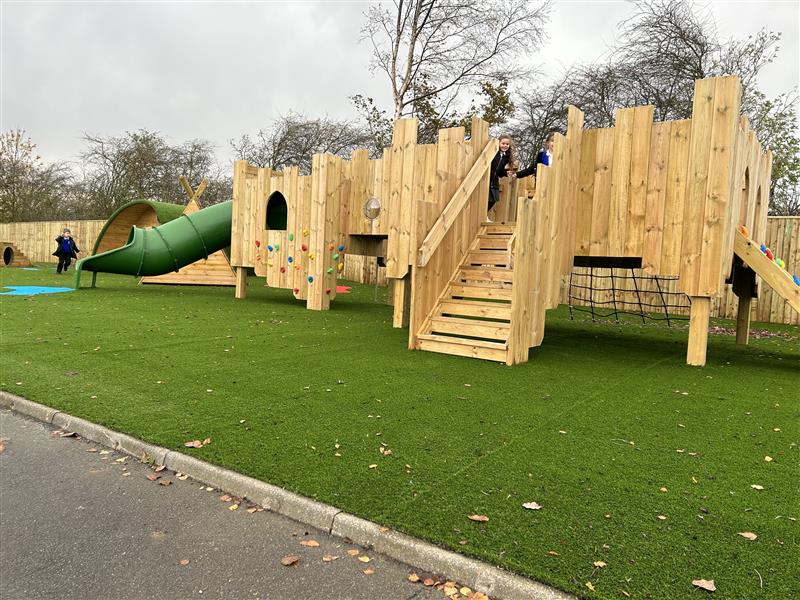 A Magical Playspace full of Possibilities for Grange Primary School
Grange Primary School located in Grimsby wanted to alter a large section of their key stage 1 playground to create a welcoming, exciting area that would ignite imaginations and promote physical activity.
Playground Consultant, Daniel Young, met with Headteacher, Carly Plaskitt, and School Business Manager, Amie Venney, to discuss their grand vision for this project and how we could help to transform outdoor playtimes for pupils.
Let's Start with Surfacing!

The first stages of the project involved removing old wetpour surfacing and preparing the ground for the new Artificial Grass Playturf. The natural appearance and colour of our playturf instantly appeal to learners. Reinforced fleece backing provides a soft feel and finish which pupils are always eager to explore.

A shockpad foam tile underlayer was fitted to the areas surrounding new equipment which is impact absorbing and provides critical fall height protection.
Splashes of red and blue Safeturf design work give interesting bursts of colour which children can incorporate as part of their imaginative games.
Introducing the Star of the Show!
The stand out star of the new playspace for learners is the impressive Langley Play Castle.
This open-ended structure aids physical play, promotes storytelling, can be home to various dens and aids different role play scenarios. Pupils love the tube slide and gliding down the fireman's pole. This unique piece certainly brings a special touch to Grange Primary.
Developing Key Physical Skills Throughout Key Stage 1
A range of key piece were selected by the school to develop motor skills and to help refine pupils balance and coordination. A Tryfan Climber with Platform and Climbing Net helps to build on climbing confidence, core stability and endurance as pupils create their own routes around the course.
Our Net Tunnel Bridge provides a real challenge where children can experiment with different ways of movement before heading over to the Balance Clatter Bridge. Learners must carefully consider foot placement whilst exploring 'trip trap' sounds and well-known stories.
A set of 4 Disc Poles allows children to develop their grip strength and Forest Roll Over Bars have been extremely popular when practising gymnastics skills. Pupils have been busy creating their own movement sequences, demonstrating body strength and control on their new active pieces.

Magical Spaces to Explore
Grange Primary now have a multitude of special spaces to enhance play. A Hobbit Playhouse is the ideal location for imaginative games as it becomes a cave, a fairy house or an underground burrow for fox and rabbit characters. The Wigwam can be used as a breakout space where pupils can read, draw or play board games.
Playground adventurers will enjoy scrambling through the Tunnel Hill before hopping over to a set of Den Making Posts where creativity and team work are required to build creations of various heights and complexities.
The Wonderful, Colourful Nursery Canopy
The second area for development at Grange Primary focussed on the Nursery department. Using Deluxe Artificial Grass Playturf, we provided pupils with a large, open, green space, perfect for physical play opportunities.
It was important to deliver an outdoor space for pupils that allowed plenty of fresh air but also some shelter from the elements. We created a bespoke timber canopy to perfectly fit the space. Colourful, polycarbonate roof panels allow light to radiate through the area and provide a point of intrigue for young learners.
To help to 'zone' the nursery playspace and provide ultimate safety we installed bow-top timber fencing with two fence gates for easy access into the canopy.
Situated on the new play turf area is a Lookout Cabin, a great role-play base for pupils to develop communication and language skills.
It was a pleasure to work with Grange Primary School to create two amazing spaces where children can lead healthy, active lifestyles and develop an enthusiasm for outdoor play.
If you would like to redevelop an area like Grange Primary School have then please get in contact with us here!