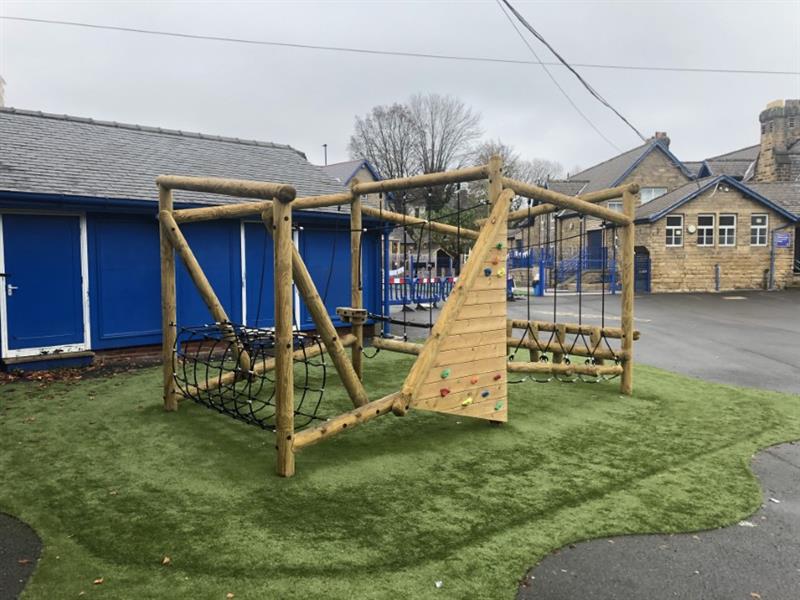 Engaging Outdoor Play Spaces That Benefit the Whole School
Dan Young, our excellent playground consultant, was proud to be asked to work with headteacher, Nicola Wileman, at Hillsborough Primary School in Sheffield to help them improve their outdoor learning environment.
Nicola was determined to improve the spaces available to the children during lunchtimes and breaktimes to provide activities all pupils could participate and enjoy, subsequently improving children's behaviour.
Dan got to work designing in five engaging play spaces that would meet the needs of all pupils, whilst providing stimulating, exciting and energising outdoor play activities.
Here's what we did…
A Place for Reading and Relaxation
During lunchtimes and breaktimes, not all children want to run around. With this in mind, we installed a 5m Hexagonal Gazebo with steps on a small section of grass to give those who'd prefer a quieter activity their very own space.
Children can use this space to read, relax and socialise with one another, sitting on the comfortable internal seating, sheltered and shaded from the elements.
Moreover, teachers can take their lessons into the great outdoors as it doubles up as a functional base for structured and unstructured learning!
Creative Mark Making and Outdoor Art
Next, we created a zone for mark making and outdoor art. In the corner of the playground, we installed two giant chalkboards and a giant whiteboard.
Children love this space as it provides them with creative freedom, writing, drawing and scribbling in the great outdoors.
It's a wonderful space for unleashing children's creative sparkle and developing ever so important fine motor skills!
To zone the space from the rest of the playground, we used our vibrant Artificial Grass Surfacing – creating a visual border from the rest of the area. It's a soft, tactile and comfortable surface for children to sit on, too.
A Space Where Imaginative Play Games Can Come to Life
A covered area for those who like to sing, dance and shout as loud as they can!
Underneath a 8m x 4m Timber Canopy, we've established an imaginative play space complete with a Performance Stage with Chalkboard, moveable seating and artificial grass surfacing.
The children love creating their own dance routine, plays and performances for their audiences sat around watching.
During adverse weather conditions, their backdrop masterpieces won't be washed away with the canopy roof providing all of the shade and shelter needed to allow the performance to go on.
Comfortable and Covered Seating Area
Under an existing canopy, we've created another comfortable seating space for the children to utilise.
Accomplished with Game Top Picnic Tables and artificial grass surfacing, it has proved to be a popular place for children to participate in a fun board game together, eat their lunch or sit and chat with one another.
There is plenty of seating, too. The new surface provides a clean and soft place for plenty of children to use!
Fun Fitness and Physical Development
The vast amount of blank space was brilliant for those who just wanted to run around playing fun playtime games but didn't offer any appropriate physical play opportunities.
Our breath taking Puzzlewood Forest Circuit has created a high energy, adventure play area, where children can swing, climb and traverse through the numerous obstacles to their hearts content!
Not only are the children able to burn off some excess energy, they're also improving their key physical skills such as upper and lower body strength, co-ordination, balance, gross and fine motor skills, too.
They love traversing through the trees and transporting themselves to new imaginary worlds, using the climbing frame as their focal point!
Pupils across all year groups are benefiting from the playground developments completed at Hillsborough School, proving plenty of activities for them to participate in at playtimes, whilst helping to improve behaviour: there's lots to do and engage with each and every day!
Would you like to improve your outdoor play spaces? Contact Us here to begin your playground journey with Pentagon Play.
If you'd like to view more examples of our work in Sheffield, take a look at our dedicated Sheffield Page Here