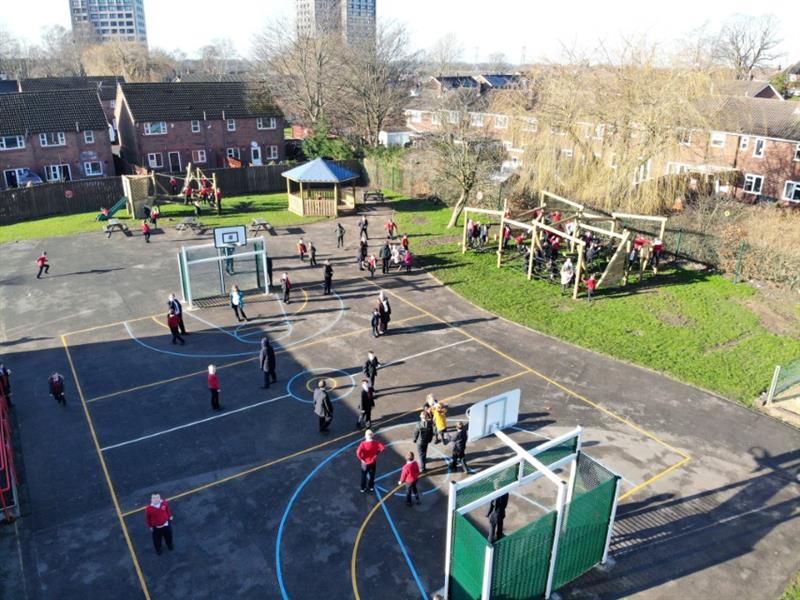 Inspiring Active And Imaginative Play Games For KS1 and KS2
We've installed an amazing selection of outdoor play equipment for Hurdsfield Community Primary and Nursery School, located in the Macclesfield area of Cheshire, to help them to promote cross-curricular play activities outdoors.
The headteacher of the school, James Cash, contacted us as he wanted to create numerous zones in his playground to extend and enhance the children's physical play opportunities, inspire imaginative play, promote sports and to create shaded, dry spaces outdoors.
Our fantastic playground consultant, Meg Booth, worked closely with the school to design and install fantastic zones to meet the school's needs - including active play areas, an outdoor performance space, outdoors classrooms and a MUGA pitch.
Active Playground Equipment For KS1 and KS2
Before our development, the KS1 and KS2 children had a worn and tired trim trail to play on, which was no longer challenging or stimulating.
To revamp this area, we installed magnificent new active playground equipment in two zones - one for KS1 and one for KS2.
Our brilliant Grizedale Forest Circuit was well suited to the children, enabling them to challenge themselves as they move through the huge selection of obstacles featured within the frame.
KS2 can now swing, climb, jump and balance from section to section. Balancing across the stepping stones, crawling through the tunnel and navigating their way through the rope net is perfect for improving their key physical skills.
Alongside the exciting new space for KS2, we installed one of our fabulous log climbers for the KS1 children. Our Bowfell Climber With Platform and Slide provides the children with an open-ended play space where they can traverse across numerous rounded logs, using the ropes as an aid, to reach the platform and fly down the slide or reach the highest point and take a leap of faith!
Both active play spaces have created energising zones where imaginative play is facilitated and physical skills are developed. Balance, co-ordination, upper and lower body strength, fine and gross motor skills and core stability are just a few of the areas of physical development being targeted outdoors.
As the children use their new climbing equipment as a focal point for their creative games, where the floor is lava and adventuring through a forest are favourites, they're also enhancing their communication, language and social skills through play!
They love their climbing equipment and cannot wait to jump in a new world of active and imaginative play each and every playtime. What game will they be playing tomorrow?
Outdoor Performance Stage For Imaginative Play Games
Providing children with a space where they can perform, dance and sing to the top of their lungs, the Mini Performance Stage with Den Posts has been a big hit!
Climbing onto the raised space together, the children are able to make up their own plays or put on a show for others sat around watching: truly encouraging imaginative play in the playground.
Taking on a new role is fantastic for communication, language, self-confidence and social skill development in the playground!
Alongside performance activities, when provided with loose-play resources, the children can make their own dens, working together to thread materials through the holes to create a covet cave for top secret missions to be planned!
Outdoor Classrooms For Shade and Shelter
Outdoor classrooms don't have the constraints of an indoor classroom, creating a natural space where learning amongst nature can take place, which is why Hurdsfield opted for three!
Beside the active play area, we installed an Outdoor Gazebo featuring a decked base. The inspirational classroom creates a wonderful space where teachers can take the children outdoors to learn and participate in interesting lessons and activities.
Amongst nature, children can breathe a breath of fresh air as they gaze out into the natural environment, leaving all of their worries indoors and engaging fully in what is being taught.
As well as the 5m Gazbeo, we also installed two Timber Canopies, one for EYFS and one right outside the classroom doors.
The 8m x 4m timber canopy has extended the indoor space, establishing a wonderful, free-flow play environment. With the classroom doors wide open, the children can easily access the dry, shaded space as their play and learning is taking right outside of the classroom doors.
In addition EYFS's new canopy, we also installed a sheltered space right outside the classroom doors. Featuring a gate, decked base and integrated chalkboard and whiteboard, the perfect social space has been created.
Those who may want to rest away from active play have an area where they can write and draw while staying sheltered from the elements.
Whether rain or shine, the children at Hurdsfield Primary School can access the great outdoors to learn no matter what the weather may bring!
Enhancing The Sporting Curriculum
To encourage the primary-aged children to participate in sporting activities, develop their sporting skills, fundamental movement skills, physical fitness and their love of sport, we installed a brilliant MUGA onto the tarmac.
The 18m x 12m pitch has been made up of playground markings and two of our grid multi goals. By marking out football, basketball and netball courts onto the tarmac, the area can be used for a range of sports during playtimes, lunchtimes and PE lessons, preventing squabbles over if the ball was out of play or not.
Our fantastic Mesh Multi Goals provide the children with a dedicated net that can be used for a wide range of sports. Featuring a wide goal and a basketball hoop, the children can clearly see when a goal has been made and jumpers stay cleaner since they're not being rolled up and used as a goal marking!
The MUGA has truly promoted sports outdoors, enhancing the school's sporting curriculum!
The children and staff at Hurdsfield Community Primary and Nursery School absolutely love their new playground developments and the teachers have seen a great improvement in behaviour at playtimes and lunchtimes since the children now have plenty of activities to participate in each and every day.
If you're looking to improve your outdoor play spaces with exciting School Playground Equipment, please feel free to Contact Us. Since all of our products have been designed by our dedicated product designers, they are perfect for primary school settings and improving your children's educational play experience.