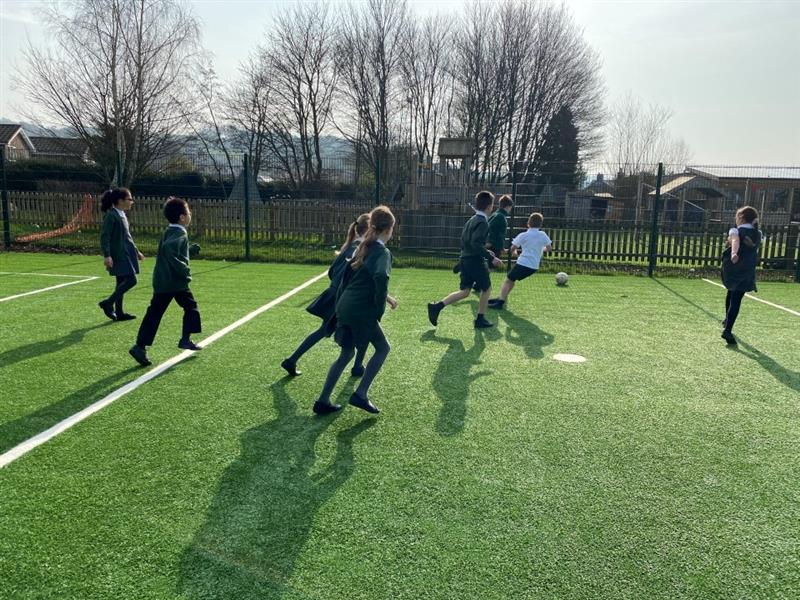 Kelsall Primary School's Multi-Level Project!
A long-time friend and customer of Pentagon Play, we were thrilled to be able to help them as they recently developed their grounds to better suit their pupils' needs.
Outdoor Learning Consultant, Ian Wood was pleased to be invited to the school multiple times over the past eighteen months to work closely with headteacher, David Wearing!
"It was great to have that sounding board with Ian coming up with some ideas of where we might have the MUGA and what would benefit school really."
Over the next year, Pentagon worked hard to ensure that Kelsall Primary School got their well-needed developments that would enable them to spend much more time outdoors than they originally could.
Make Room for the MUGA!
An addition required by Kelsall Primary for a while, one of the first things on the list was a Multi-Use Games Area.
The typical English weather meant that for months at a time, their fields were wet and muddy and unusable for the pupils.
This meant that play was redirected to the slippery tarmac, opening the door to stumbles, tumbles and falls- all the things we don't want during breaktime!
With the installation of all-weather 4G Surfacing, the pupils will feel like real footballers all year round as they race around the pitch and score goals that even Messi would be impressed with.
A priority for Kelsall was creating zoned spaces where pupils could go for specific activities so adding in the 868 fences around the pitch was ideal.
868 fencing is great for sports zones as not only does it prevent climbing but it is extremely strong making it perfect for a football zone where it may be used as a target!
Pupils shouldn't need to use it as a target though as they have two great recess goals indicating clearly where the teams should aim.
This feature is great also as it works as both a P.E lesson space and as a free-play area for pupils during their breaks and lunchtimes.
We can't wait to see some of these pupils at the World Cup in a few years now that they have this amazing practice space!
Now it's time for Netball!
An additional space that has been added is the new Netball Court where pupils will be able to enjoy the sunshine and develop their netball skills this summer.
Consisting of a Black Wetpour Surfacing, this is also, like the MUGA, an all-weather surface for the pupils to enjoy year-round.
Marked with Yellow Wetpour Lines, pupils will learn the rules of the game quickly and be able to stand in the correct positions!
There were definitely some athletes on the court during our visit and their potential is endless with this new sports space.
The use of wetpour is also key in this area due to its non-slip feature which makes it perfect for the rainy British weather.
A Revitalized Nursery Area
The Nursery Garden also needed sprucing up for the little learners and so Pentagon Play was happy to help with suggestions, ideas and enthusiasm.
First on the list was a new 8m x 4m Timber Canopy which has created a great multi-purpose space for the nursery staff to utilize.
This area allows the nursery pupils to enjoy the fresh air whilst having a sheltered space when the weather isn't great!
The teachers in this classroom have used this space to their organizational advantage fitted with a coat rack and welly storage- this gives the classroom much more space for learning.
The pupils seemed so comfortable running from the classroom, to the timber canopy space to their new nursery garden!
As well as this, the nursery pupils now have a bright and vibrant space to play in thanks to the installation of Green Artificial Grass Playturf.
This surfacing is great for all playgrounds, but especially for little ones as it prevents tumbles from being too serious and is comfortable to sit and lie on when playing.
They've also added a wetpour track where little ones will be able to practice their bike and scooter riding skills, building speed as they go and becoming more comfortable as they go!
Pupils also have access to a large Mud Kitchen, which has plenty of room for pupils to play together or individually and to let their imaginations run free. This is always such a popular product for both its sensory and imagination benefits! The pupils at this nursery were definitely making the most of it in the sunshine!
Working with Kelsall Primary again was an honor for Pentagon and they were full of kind words when we spoke with headteacher, David Wearing;
"They involve you from the outset and help you with any designs and tie into your vision of what you want for school."
We look forward to working with David on future projects for Kelsall School and wish the pupils all the best with their new play developments.
See more projects like this one on our Cheshire Locations Page or Contact Us Today to discuss how we can support you with your playground remodel requirements!