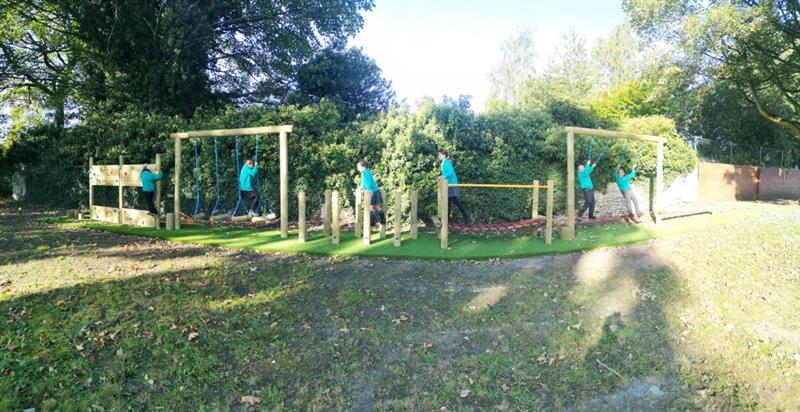 An Invigorating Trim Trail For Imaginative and Active Play Outdoors
Knottingley St Botolphs CE Academy located in Wakefield, West Yorkshire, wanted to create an inspiring active play area underneath the trees on their school grounds.
The School Business Manager , Clare Simister, worked in partnership with our sport enthusiast and outdoor learning consultant, Meg Booth, to design and install this fantastic play zone.
A challenging selection of obstacles under the trees
Meg designed a fun and challenging Trim Trail that would lead from one side of the field to the other, following the hedge row underneath the trees.
As the area was natural grass, Meg decided to include our all-weather Artificial Grass Playground Surfacing underneath the trail. This ensures that the children can climb, swing and balance all-year round!
Claire fell in love with the design and couldn't wait to see the area come to life during installation.
The new trim trail is made up of seven exciting challenges for the children to conquer during playtimes and lunch times, including:
Stepping logs
Single sided climbing wall
Rope swing traverse
Walk and stretch
Clatter bridge
Swinging log traverse
Inclined balance beam
With such a wide range of equipment included, children are encouraged to jump, climb, swing, balance and traverse from one obstacle to another. As the children move through the trim trail, the challenges become progressively more challenging. This is ideal for their continual progression!
Children who may find it more difficult to complete the physical challenges will be encouraged to take safe risks to overcome the obstacle or they can simply jump off the trail, becoming more determined to conquer it next playtime.
Not only does the new trim trail improve the children's climbing confidence and it also develops their grip and grasp, overall strength, fine and gross motor skills as they explore the new addition to their playground.
Children's imaginative play games come to life as they use the trail as a focal point. Which little monkeys will be swinging through the trees of the jungle? Who will cross the river without falling in?
Are you looking at improving your children's physical play opportunities? View our huge range of active play products here and create your own wish list. If you are looking for further inspiration, you can view more active play projects here.
We have developed new ways to conduct playground consultations safely in these difficult times. Complete our Online Form to begin your journey with Pentagon Play. One of our consultants will be in touch to arrange a free consultation.
If you would like to view more examples of our playground projects in West Yorkshire, visit our West Yorkshire page here.