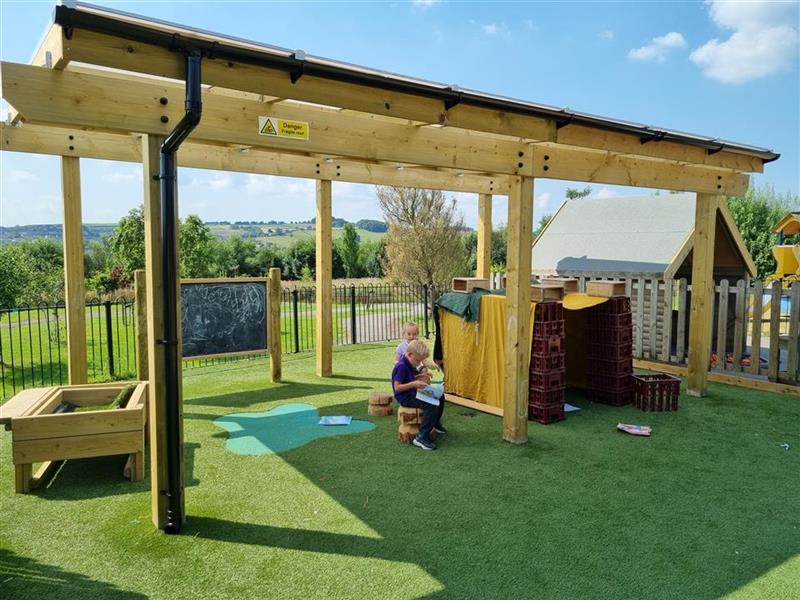 A Scenic EYFS Playground To Promote Active and Imaginative learning through play.
It has been a pleasure for us to be able to work alongside Merlin Top Primary Academy, to create a magnificent playground for the EYFS children.
We have an abundance of experience working with multi-academy trusts and it was a pleasure to meet with Merlin Top Primary Academy to create a vision for their early year's playground.
Merlin Primary Academy are part of the Northern Education Trust whom we have worked on numerous occasions. The Northern Education Trust live by 10 values that underpin their vision and one of these values is "We care passionately about the education and welfare of young people".
Megan Booth, one of our most experienced playground consultants, created a vision with the academy to turn their outdoor area into a fun and imaginative play space.
A Zone Building friendships and increasing communication!
We wanted to create a zone that added a unique dimension to children's play and become the "Go to" place for role play and children's imaginations.
Our Lookout Cabin is a haven for imaginative play and role play games that promotes learning at height.
There is plenty of space inside for storytelling and socialising with friends.
The teachers at Merlin Top Academy have added some role-play items inside including a mini mud kitchen and mini tumble dryer.
The balcony around the Lookout Cabin provides children with a space to view their playground from an elevated position and add a different element to their role-play games.
Run, Skip, Jump or Climb, Traverse and Swing…
To promote active play and physical development, we included three excellent resources that offer a multitude of open-ended challenges.
We chose to include our Get Set Go Blocks, Pinnacle Hill Climber and Climbing Wall, which all create provide children with a variety of physical challenges. These resources will develop children's agility, strength, gross motor skills, coordination, and fine motor skills.
Scattered around the playground our movable "Get Set, Go! Blocks" provide children with a challenging obstacle course that truly tests their agility.
Watch as children transform into young athletes and practise jumping and sliding down the different blocks.
Children can work together in groups to lift and position the blocks creating their own obstacle course for some open-ended fun. This is a great way to encourage teamwork and communication.
To further promote active play, we installed our Pinnacle Climber to compliment the skill-based challenges presented with our "Get Set, Go! Blocks".
Our Pinnacle Climber is an excellent introductory climbing frame that will test children's grip and grasp, strength, and gross motor skills. Children will gradually build their confidence to climb higher and take safe risks to take their climbing skills to the next level.
In addition to the above, we included a climbing wall to further develop climbing confidence and add some problem solving to the challenge.
The young climbers can show off their superhero skills while traversing across this challenge and choosing their own pathway to climb.
The next big star!
We wanted to give the children opportunity to express their performing arts will encourage friendships and enhance spoken language and self-confidence.
We installed our Performance Stage with Chalkboards for the budding movie stars and pop stars to exalt their talent.
The Saferturf with stars really brings an area to life, creating an attraction for children to express role play games.
A playground so bright you can see it from space.
Megan wanted to make sure that the playground had an energetic feel!
A mixture of Artificial Grass and bright coloured Wetpour Surfacing compliment the playground, including Wetpour Splashes and roadway markings.
Promoting road safety
As the children whizz around the roadway, they will get to grips with road safety in a safe and fun environment without any dangers of real roads and cars.
Roadways are a great way to teach children about one-way systems and how to cross the road safely at a Zebra Crossing.
When children use roadways, they will actively develop their balance, coordination, and ability to ride a bike or scooter.
To create a sense of realism to the roadway, we installed parking bays where children can park their motors and exchange motors. This is a great way to provide children with some responsibility.
A sheltered space for mark making and quiet reflection
Merlin Top Academy discussed the need for sheltered spaces, and to ensure we delivered on this vision, we installed a huge sheltered area on one side of the playground.
This is a great space for den building, storytelling, quiet reflection and socialising with friends.
On our return to the school to see how the children had accustomed to our new area, we were greeted by the children bursting through the doors and running to the playground. It was great to see children independently choose the areas they wanted to explore and the equipment they were going to use.
One of the best parts of our role at Pentagon Play is revisiting the schools we helped transform and it always brings much joy when you see the enjoyment on children's faces.
If you would like to create a creative play environment for the children at your schools, don't hesitate to Contact Us Here to begin your journey with Pentagon Play today!
Take a look at all our stunning playground developments that we have completed across the West Yorkshire area on our dedicated Yorkshire Playground Projects Page here.