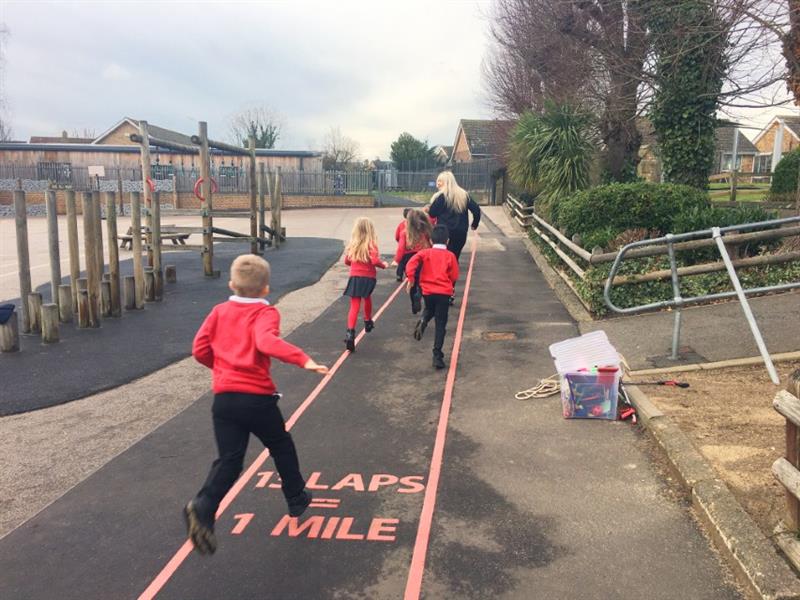 A Daily Mile Track that Gives Daily Exercise More Purpose
Ready, Steady, Run!
The tarmac playground at Norwich Road Primary Academy has a new lease on life, with a focus on keeping the children fit, healthy and supporting their wellbeing.
As a school who value the daily mile as a way to improve their children's health and fitness through daily moderate exercise, they wanted to create a dedicated track in their school playground.
Our playground consultant, Marion Rolph (a keen runner herself), was delighted to work alongside the Norfolk primary school to design a vibrant track on their tarmac surface.
An Invigorating Track for Competitive Activities
To transform the plain tarmac surface into a resource for outdoor exercise, we installed a bright red running track outline using our thermoplastic playground markings.
This vibrant track runs along the perimeter of the school playground, creating a dedicated area for the children to run, walk, skip and hop their mile a day.
We even included the signage '13 laps = 1 mile' at the start of the track to make it clear to the children how many laps of their new track they have to run to complete their mile a day!
They love competing against one another throughout the day to see how many laps they can run in total.
How Does this New Track Benefit the Children?
The Daily Mile is a fantastic initiative that aims to improve the physical and emotional wellbeing of children through daily exercise – regardless of both age and circumstances!
Providing children with a dedicated track gives a clear focus to where they have to run and acts as a motivator for children to regularly participate.
The school are well aware of the positive impact the daily mile can have on their young learners – improving their cardiovascular fitness, physical skills, mental wellbeing and encouraging them to lead a healthier lifestyle through daily exercise!
In their newsletter, they promote healthy competition and provide some motivation to get outside and run their daily mile (even during home learning) by highlighting classes achievements with how many miles they've ran each week.
The school have even calculated how far across the world their pupils have travelled!
"This has given our daily exercise more purpose…"
Hannah Archibald had some lovely feedback about her experience working with Pentagon Play and the positive impact the new track has had on the children:
"We, at Norwich Road Academy, are so pleased with our daily mile track. This has given our daily exercise more purpose and the children are always enthusiastic to count the laps they have completed. As a school, we are keeping count of the amount of miles we run and seeing how far across the world we have travelled! The process of organising the track was easy and the communication throughout was brilliant. We will definitely use Pentagon Play again for future projects!"
Would you like to improve your children's physical fitness and mental wellbeing during the school day, too? You can visit our focused Daily Mile Track page for inspiration and to understand the solutions available to you or view all of the fantastic areas you can create with your Sports Premium Here.
To arrange a free consultation with one of our expert outdoor learning consultants, complete our Online Contact Us Form and we will be in touch to start your journey.
To view more examples of the excellent playground projects we've completed in Norfolk, visit our Norfolk page here.